Crime Kokua
Community Contributed 
By Officer Lonnie Ka`ai, Community Police Officer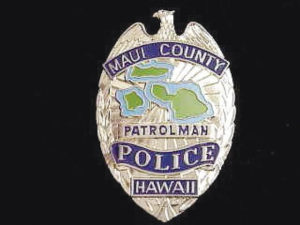 We're just about three months into the new year and my, how time is flying by. I'll be keeping you folks up to date with any public issues or concerns as well as any announcements that need to made on behalf of the Maui Police Department. We would like to ask for your kokua on three major cases that have occurred over these last couple months.
First is regarding the shooting of several horses and one cow up in the Kalae area belonging to Richard French. These shootings had occurred on two occasions, one in December and another at the beginning of February. There is really no need for this to happen especially to helpless animals.
As many of you have noticed, we've had several fires here on Molokai within the last month. Some of these fires have threatened lives and properties of some of our friends and families. As we all know, Molokai is very susceptible to fires due to the lack of rainfall and the large amount of dry areas that our island has. There is much for all of us to lose should these fires continue.
Finally, the last incident was a robbery that took place at the Pascua Store in Kaunakakai town. This came as shock, as a firearm was used while committing the crime. This type of crime changes everything here on Molokai. A community that could once live and operate without that fear, now has to change their way of living. We cannot allow this to happen.
There are ongoing investigations for each of these incidents. If you have any information regarding any of these crimes, we encourage you to contact the Molokai Police Station at 553-5355. We, as a community, need to keep our Molokai as peaceful and as ohana driven as it has been in the past. Please be safe and have a great day, aloha.