Cowboy Up for a Cause
High school rodeo competes for breast cancer awareness.
Kamakana Purdy's favorite color is pink. While not what you would expect of a rodeo jock, Kamakana started wearing the color in support of his grandmother when she was diagnosed with breast cancer two years ago.
While his grandmother is one of the survivors, around 40,000 women a year are not. To raise money and awareness to help fight the wicked disease, the Hawaii High School Rodeo Association – Molokai themed their last competition of the season 'Tough Enough to Wear Pink' last Sunday. The rodeo was an all-day event at the Molokai Ranch arena.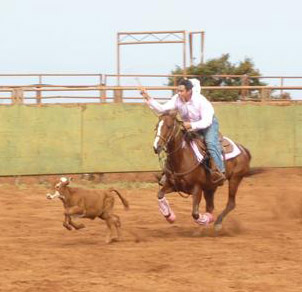 Mahalo to all who helped make the last rodeo of our 2009-2010 season in which was donated to the Tough Enough To Wear Pink Campaign for Breast Cancer Awareness possible. Our girls and boys have raised over $2,000 in which will be donated to our very own Molokai Cancer Fund! Mahalo Nui Loa! — Meli Purdy