COVID Surge Causes School Cancellations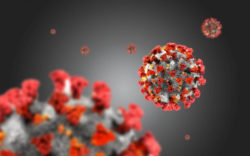 By Catherine Cluett Pactol | Editor
A recent surge in COVID cases on Molokai has caused a disruption to some school classes and sports competitions. The Dept. of Health now only provides reporting on COVID case counts weekly on Wednesdays, with nine new cases reported for Molokai between Wednesday, April 17 and Wednesday, May 4, community reports suggest last week's case numbers on Molokai were much higher. DOH officials did not respond to requests for updated Molokai counts.
Last Sunday night, Molokai Middle School announced school closure this week, with cancellation of classes on Monday, May 10, followed by distance learning the rest of the week due to "the high number of cases among staff and students."
"Due to a rise in COVID cases in our school community, we have a number of stuff and students impacted by isolation and quarantine requirements," Molokai Middle School Principal Kainoa Pali wrote in a letter to parents dated May 8.
In-person learning for MMS is planned to resume on Monday, May 16.
A May 5 letter to Molokai school families from the Complex Area Superintendent addressed what was called a "potential cluster."
"We have identified a potential cluster of COVID-19 cases related to Teen Fest, a non-school sanctioned event that occurred on Saturday, April 30 at Lanikeha Community Center. We are collaborating with the Hawaii State Dept. of Health on its investigation of the source of transmission," the letter stated.
The DOH defines a cluster as three or more confirmed or probable cases among those in a specific group within a 14-day period.
"If your child attended Teen Fest, testing is strongly recommended if any symptoms develop and when five days have passed since the last exposure," the letter continued.
At Molokai High School, the judo team was scheduled to compete at the state level, with six athletes qualifying for the event, but was prevented from attending because of Dept. of Education COVID-19 protocols. Athletic Director Lee DeRouin said he couldn't provide further detail other than he was following the same COVID guidelines set to determine whether students can attend school, go to sports practice or travel for school events.