COVID-19 Prevention Efforts Escalate, 'Stay at Home' Mandate Ordered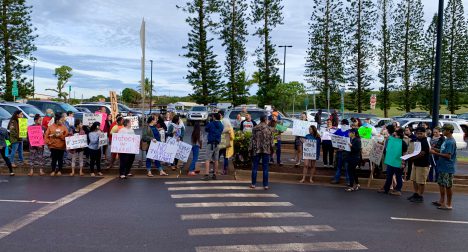 By Catherine Cluett Pactol
Molokai's Saturday Market in Kaunakakai is normally one of the island's busiest weekly events, with vendors, farmers, artists, crafters, bakers and shop owners lining the sidewalk. But last Saturday, residents driving through town found it empty — one of the many signs of precautions taken to combat the Coronavirus Disease 2019, or COVID-19, pandemic. Restaurants are closed for dine-in meals, most businesses have temporarily closed their doors and residents have been ordered to hunker down in their homes to safeguard everyone's health and prevent spread of the virus.
As of Sunday, March 22, there were 56 cases in the state, of which 48 cases were residents and eight were non-residents. While previously, all cases could be traced back to travel, Oahu documented its first community spread cases, defined as those that cannot be tracked back to a traveler and have absolutely no travel related connection. Molokai has yet to report any known COVID-19 cases as of press deadline Sunday.
Effective Wednesday, March 25, a new County of Maui order to "stay at home and work from home" mandates all residents to stay in their houses except for "essential activities," "essential businesses" or "government operations" as defined in Public Health Emergency Rules announced last Friday. Violation of the rules is punishable as a misdemeanor.
"The health and safety of our community has always been my top priority and I believe we need to take bold actions if we are to stop the spread of this virus," Mayor Michael Victorino said. "I am ordering all our residents to stay at home and our visitors to stay in their rooms as much as possible. Critical services and operations will continue, and everyone will still be able to get gro-ceries and essential supplies."
During a live stream COVID-19 update for Molokai last Friday, Dr. Lorrin Pang of the Maui District Health Office urged residents to practice social distancing.
"At this stage, it's probably the best and most powerful thing we can do," he said. "It's the final card to play and probably the most important thing…. How long are we going to do this? Nobody knows but we are going to try to control it…. You gotta make the move now [before it's too late]."
On Molokai, COVID-19 testing is available at Molokai General Hospital and the Molokai Community Health Center, but those who are sick are advised to first call their doctor, and the Dept. of Health advises that a provider's referral is needed for COVID-19 testing. Lab testing re-sources are limited, and there is no specific medicine to treat COVID-19, so treatment would not differ whether results are positive or negative, according to the DOH.
Impacts on Travel
Last Saturday, Gov. David Ige ordered that everyone entering the State of Hawaii to self-quarantine for 14 days, effective Thursday, March 26. Upon arrival, residents are required to self-quarantine in a designated location in their residence. Visitors are to self-quarantine in their hotel room or rented lodging. Self-quarantined individuals may only leave their designated loca-tion for medical emergencies or to seek medical care. Failure to comply with all rules and proto-cols related to quarantines is punishable by fines of up to $5000 and/or imprisonment of up to one year.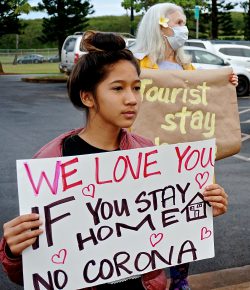 In a March 21 open letter to Gov. Ige, Rep. Lynn DeCoite asked the governor to take it a step further, calling for "immediate closure of Molokai and Lanai Airports to non-essential travel."
"With the growing number of confirmed COVID-19 cases throughout the state, I am very concerned for the rural isolated communities on the islands of Molokai and Lanai," she wrote. "As of today, these are the only two islands that do not have confirmed cases and it needs to remain that way. Both Molokai and Lanai have limited resources, especially when it comes to medical services. These resources and services are being threatened each day as planes, commercial and private, are still arriving to MKK and LNY bringing tourists…. If travelers, even local residents, do arrive at these airports they need to be under mandatory quarantine monitored by the state, not 'self-quarantine.'"
Earlier last week, more than 50 Molokai residents took matters into their own hands with a pro-test and strong message for visitors at the Ho'olehua Airport: "go home."
"We're doing this because we want the tourists to stop coming to Molokai," said protest organizer Walter Ritte. "We are saying to the airlines, you guys gotta stop bringing tourists to Molokai. We're trying to be a voice for Molokai, to let the governor know that we're serious, we do not want tourists on Molokai…. Tourism at this time is a threat to our island… Once it [virus] gets on Molokai, we don't have the facilities on Molokai to take care of all of us."
Hotel Molokai announced last week it has temporarily closed.
"We have made the difficult decision to suspend operations starting today, and plan to reopen on May 1," said the hotel on social media. "Of course, this wasn't an easy choice, but we feel it's the socially responsible one and a choice that will support a more favorable long-term outcome for the communities that support us."
Emergency Rules
Effective last Friday, March 20, Victorino announced Public Health Emergency Rules, calling for the closure of all businesses except for those defined as essential. Those include first respond-ers and law enforcement, healthcare services and pharmaceutical supplies, food supplies and agricultural operations, financial services, gas stations, sanitation services and other essential operations. Bars, tourist attractions and public gathering venues are also closed. Gatherings of more than 10 people are prohibited. These rules will last for at least 60 days.
"Together, we are facing an unprecedented emergency in Maui County with the spread of COVID-19," said Victorino. "With many canceled events, changed work schedules, and closed
businesses, the coming weeks are uncertain. Everyone in our community is feeling the
stress of the unknown and it brings many challenges for us all. However, despite all the cancel-lations and changes in our daily lives, we must all remember one thing: aloha is not canceled."
The "stay at home, work from home" amendment to the rules was announced Sunday.
County of Maui offices are closed to the public, as are all country facilities, including Mitchell Pauole Center, the gym and public pool.
Police Captain Gregg Okamoto said Molokai officers will still be proactive in their patrols and will continue to be visible, but are trying to limit direct contact like everyone else.
"The only thing we ask of the public is that if it is not an emergency or crime in-progress, please make a report over the phone and not expect an officer to speak to them in-person," he said. "Use common sense and don't be out unless it's necessary or in small groups."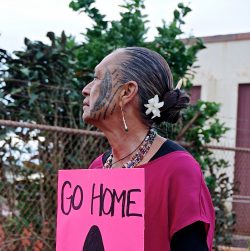 With the County's emergency rules in place, restaurants are not permitted to serve dine-in food and many Molokai restaurants are offering special take-out menus.
Many businesses and organizations have shifted operations to working remotely if possible. Lo-cal artists and vendors are boosting online marketplaces, while other employees that cannot work from home are filing for unemployment claims. Businesses struggling to stay afloat financially are advised to apply for aid funds available.
The federal Internal Revenue Service announced that the federal income tax filing due date is automatically extended from April 15, to July 15, 2020.
Many utilities such as Hawaiian Electric and Hawaii Gas are offering payment plans for customers struggling to pay their bills, and have promised suspension of disconnections for non-payment for 30 days.
Spectrum internet service has pledged to offer free access to Spectrum broadband and WiFi for new K-12 and college student households in communities where their network currently passes for the next 60 days to help students learn remotely while schools are closed.
The information in this story is current as of press deadline Sunday, March 23 but with the current situation changing rapidly, updates will be available on The Molokai Dispatch Facebook page and website.