County Recognizes Abuse Prevention Efforts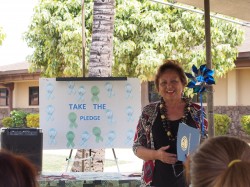 A proclamation by Maui County Mayor Alan Arakawa declaring April as Child Abuse Prevention and Sexual Assault Awareness Month had special meaning for prevention efforts on Molokai. Thanks to the efforts of staff at Child and Family Service, Child Welfare Service and Molokai's Consuelo Foundation, support, services and prevention programs have taken a leap forward.
One example of recent success is the founding of a trained team of experts, counselors and first responders called Molokai Sexual Assault Response Team, or MoSART, which enables victims of sexual assault to no longer have to travel off-island for services and care.
At a proclamation ceremony in front of the Public Library last week, community members gathered to recognize those efforts and celebrate the county-wide declaration.
"This is the first time for Molokai to [have a] proclamation [like this]," said Titi Hernandez of the Child and Family Services and the Consuelo Foundation. "It's a big thing for me."
She introduced the nine staff members of the Child and Family Services, five who serve at the Child Welfare Service and several on staff at Consuelo and shared the work they do on the island.
"Their main concern is our kids," she said. "It's not an easy job when you have to take kids away from [troubled] families."
County councilmember Stacy Crivello thanked those involved in the prevention and awareness efforts for their tireless work.
"We're a small community and we all know the struggles," she said. "Sometimes [it's easier to] turn the other side and live in denial."
The declaration states that research shows once every minute, a child somewhere in America is abused physically, sexually or emotionally. It goes on to "encourage our citizens to support our community agencies in their efforts to provide education on child awareness, neglect and prevention."
While the declaration is an important step to raise awareness in the county, "it's more a form of mahalo for the work you do… caring for our precious treasures," Crivello told staff of Molokai's prevention and support services.
"As an extended family… our hands and arms are connected to our hearts… so stretch that out to constantly malama each other," Crivello added. "We're a caring and sharing community."
The Molokai Sexual Assault Center can be reached at 553-5529 or call the 24-hour Sexual Assault Hotline at 213-5522.