County Begins Deer Harvest Cooperative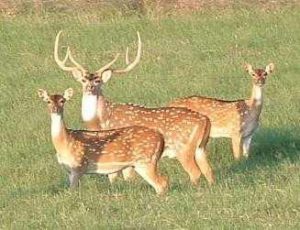 The County of Maui has organized the Maui Axis Deer Harvesting Cooperative (MADHC) to help farmers, ranchers and landowners control invasive Axis deer on their property while addressing food security with zero waste. MADHC is made up of a group of certified, trained, hunter- members who can provide harvesting services to those in Maui County receiving damage from Axis deer. The meat will be shared between hunters and landowners, and in some cases, local slaughterhouses will process meat for resale after USDA inspection.
The cooperative began its four-month deer harvesting pilot program on Oct. 1, funded by a $37,500 grant from the Maui County Office of Economic Development.
"These deer are a menace to our farmlands and ranches and cause about a million dollars in damage to crops and property every year," said Mayor Alan Arakawa in a county press release today. "The formation of the MADHC is our first step towards controlling this invasive species and turning a pest into a resource."
According to a MADHC information sheet, Axis deer, which are originally from Sri Lanka and India, are a tropical deer and one of the best, low-fat, local grass-fed meats in the world.
"We expect that the hunters' cooperative will provide a valuable, vital service in a professional manner, as one of many strategies to control impacts from the ever-growing numbers of deer," said County Environmental Coordinator Rob Parsons, a member of the Maui Axis Deer Working Group, in the county release.
In its mission of zero waste, MADHC plans to use every part of the animal. Hides can be tanned and sold, entrails donated to farmers for use as compost, bone ground into bone meal and used as a soil amendment, antlers can become jewelry and the waste meat can be made into dog food. MADHC invites entrepreneurs interested in being associative members to contact them about any of these eco-friendly donations and/or business opportunities.
Some meat will go to the hunters and landowners, and at other times MADHC will invite a USDA/FSIS ante-mortem inspector and transport the deer to a recognized USDA registered slaughterhouse where it will be inspected post mortem to assure its safety for human consumption. Inspected meat will also be offered to the public by the cooperative at farmers markets and at a few interested Maui island restaurants and stores.
All hunter members will be required to have NRA rifle certification, hold a valid and current Hawaii hunter's license, go through a background check, and will be fully insured by the cooperative's liability policy.
The group extends a warm welcome to any farmer or landowner needing help. Those interested in deer removal from their property should contact the MADHC at mauiaxisdeer@gmail.com or call (808) 269-4625. For more information about the MADHC contact Phyllis Robinson at pfierrorob@aol.com or at (808) 874-1239. Or call Maui County Environmental Coordinator Rob Parsons at (808) 270-8250.