Country Fair for the Catholic Church
Catholic parishioners on Molokai have been planning and fundraising for a new church since 1995. Now that the worship structure is a reality, the fundraising efforts haven't stopped — one of the St. Damien Parish's biggest annual events was held last Saturday. This year's Country Fair at the Mitchell Pauole Center had a fundraising goal of $12,000, according to church secretary Rose Brito.
"[The Country Fair's] purpose is to pay off our beautiful church," said Brito.
Even with years of fundraising, the parish still has over $1.4 million in loans to pay off on the new church, said Joan Lasua, the church's finance chair.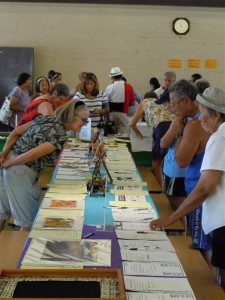 The Country Fair featured a silent auction, plate lunches and baked goods, plant sale and lucky number drawings with cash prizes and a grand prize of a vacation package to Vegas. Pictured here, community members hover over silent auction items before the auction's closing.
"People have worked so hard to make this happen," said Brito, adding that most of the items were donated by parish and community members. "We want to thank the community for its participation."