Connecting the Names
Families piece together Kalaupapa history.
Last Wednesday evening found a group of Molokai residents poring through lists of names. They were looking for anything familiar, searching for clues that would connect them to the thousands exiled to Kalaupapa.
"We're talking about names, but behind every name is a person and a family," said Anwei Law, a historian who has been visiting Kalaupapa for about 40 years.
Many came to the workshop led by Ka `Ohana O Kalaupapa with one name they already knew – and left with dozens of possible relatives. The Kalaupapa Names Project is a statewide initiative to gather information about the estimated 8,000 individuals who were sent to the peninsula beginning in 1866. Fewer than 1,000 of those people have marked tombstones. The `Ohana – a nonprofit organization dedicated to preserving the memory of Hansen's disease patients (also known as leprosy) – has found over 7,000 names, according to Law. The names will become part of the Kalaupapa Memorial, a project currently being planned to honor those who lived and died on the peninsula.
Over 700 remain unknown – and it's now up to their families around the state to help identify them.
"It seems like everyone has a family connection and that's what we're looking for," said `Ohana secretary Valerie Monson.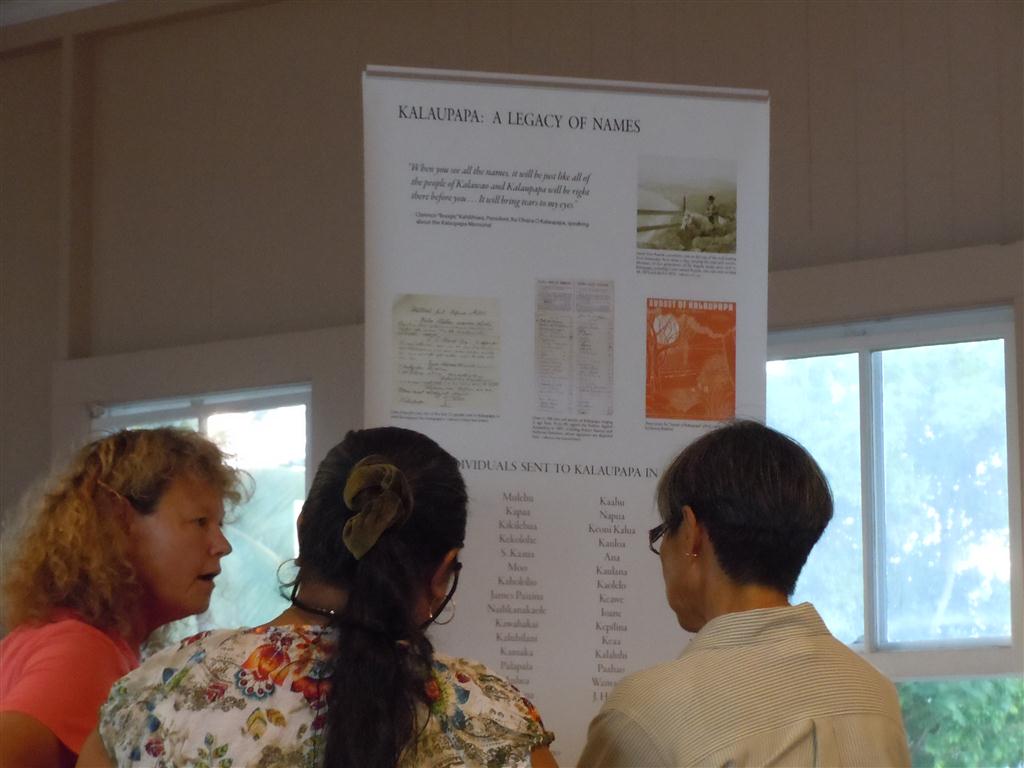 ," said Law.
Letters from patients give insight into the isolated lives they led. A letter from J.N. Loe, one of first 12 people sent to Kalaupapa, "didn't ask for clothing, didn't ask for food – it asked for a newspaper," Law explained.
Photos offer another key to both history and identification.
"We always show photos and hope that someone will recognize them," said Law. The `Ohana has asked families – and residents who may not know they have family history in Kalaupapa – from across the state to review names, correct spelling and add information to help complete the puzzle.
Sol Kaho`ohalahala, an `Ohana board member and Lanai resident, recalled the first time he found out he had family in Kalaupapa.
In 1996, he was invited to attend a conservation workshop on the peninsula, and by chance met a kupuna who turned out to be his uncle's wife – "an uncle no one ever talked about," he said. On a tour of the peninsula, Kaho`ohalahala then discovered a tombstone next to Siloama Church marked "Lillian Kaho`ohalahala."
"My heart was heavy… I cried the whole weekend," he recalled. "Our ohana are all part of that aina – their bones are there, their spirit is there… and we have a responsibility…. All who lived and died there should never be forgotten," he told Molokai residents last week.
Set in Stone
The Kalaupapa Memorial, a vision begun by patients decades ago, was authorized by President Obama in 2009. Since then, patients have chosen its site – where the old Balwin Home used to stand in Kalawao – and an environmental assessment is currently in process. The group is waiting for the final go-ahead from the National Park Service (NPS), according to Kaho`ohalahala. They expect a "no impact" ruling.
The `Ohana are also in negotiations with the NPS to sign a general agreement for the memorial. The agreement spells out, among other issues, who will be responsible for the building, maintenance, funding, design and rights to the historical documents and archives that have contributed to the memorial. The `Ohana must raise all the financial support to build and maintain the monument – no federal funding has been provided. The `Ohana is also negotiating to maintain "intellectual rights" of the research documents, according to Kaho`ohalahala.
Next year, the `Ohana will "put out a call" for the memorial's design, he added. Families, and even students, will have the chance to participate in the conceptual design of the monument. Criteria will include holding the 8,000 names and creating a design that will "fit" in the selected location.