Connecting With the Heart of Molokai
An Unforgettable Day in Halawa Valley with Kumu Pilipo Solatorio and Josh Pastrana.
Community Contributed by Annette Johnson

As a vacationing visitor from Anchorage, Alaska, I came to Molokai for some quality "Island" time away from the fast pace of today's life. I chose Molokai for its "most Hawaiian" and low-keyed atmosphere.

The owner of my condo rental highly recommended hiking to the Halawa Valley Falls with the Pilipos to guide you. She said the hike to Halawa Falls is not to be missed, that Kumu Pilipo is a true native and "Keiko o ka aina" who was born and lives in this beautiful valley. He will give you the history of this area and talk stories that will make you laugh and cry and send chills down your spine. It will be an unforgettable experience you will treasure for a lifetime.

I was able to meet Kumu Pilipo for a talk story with another group, but when I arrived at the pavilion in Halawa Valley, Kumu Pilipo and Josh Pastrana told me the talk didn't start till later that day. But they asked me if I would like to stay for it. Having long ago learned that everything happens for a reason, I happily agreed to go up to their home and wait for the taro talk/demonstration. I followed them up the gorgeous valley to the home and beautiful taro fields of Kumu Pilipo, and he mentioned to me that he had much preparation, for the Ancestor Spirits to be happy with his talk. He told me to wander around and see what his son was doing in the taro fields.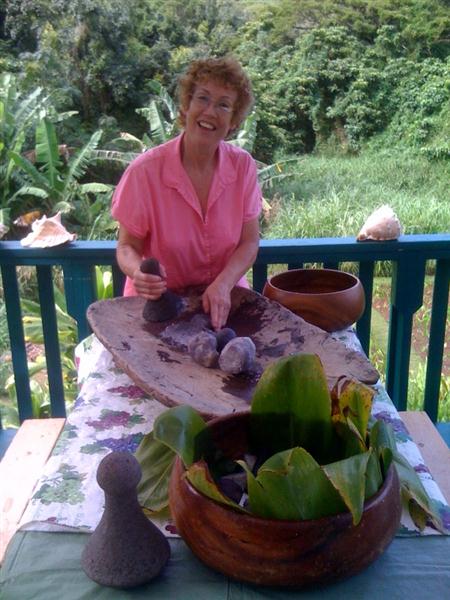 I found Josh nearby attending to a fire where the taro would be boiled. He said that he needed to harvest some taro for the talk, so we walked over to the fields. Josh mentioned to me that he was a teacher, and soon I rolled up my capri pants and wade in barefoot, like him, harvesting the beautiful taro plants. I must say that Josh is a wonderful teacher, excellent in his directions and teaching, very knowledgeable and patient and helpful in his demeanor.

During Josh and I's taro preparation, Kumu Pilipo prepared the area for the talk/demonstration with ti leaves, his pictures, conch shell, story board and his ancient wooden poi board and pounding stones. While helping Josh and me, he told me stories of the history of Halawa Valley, Molokai, the ancient practice of brings gifts to the chief, the blowing of the conch shell, communicating with arriving visitors.
I don't know how it was that I was so honored that day to receive the complete taro experience from the harvesting of the taro all the way through its preparation to the poi bowl. I had never eaten the taro root by itself, only poi before, and this was the best poi I had ever tasted. Eating the taro root itself seemed like a sacred honor, as it takes this special plant so long to grow to maturity, six to 12 months. I found it delicious. Perhaps it was from understanding more of the history of the taro plant and its long history here in Halawa Valley, Molokai, Hawaii and Polynesia. From the stories and what I learned this day in the taro fields of Halawa Valley with Kumu Pilipo Solatorio and Josh Pastrana, I came away with a deep core connection with Molokai, its land and people. My deepest appreciation and gratitude go to Kumu Pilipo Solatorio and Josh Pastrana for this extraordinary day I will treasure the rest of my life.