College Faces Growing Pains
Molokai's campus continues expansion plans.
The campus formerly known as Molokai Education Center is inching towards expansion – both in size and academics. However, the next stage of development – more land – is hitting road blocks.
Under a new affiliation with the University of Hawaii (UH), higher education on Molokai will now be referred to as UH Maui College – Molokai. And Molokai's coordinator and professor, Donna Haytko-Paoa, has been working with the college for over 22 years to expand the Friendly Isle campus.
Although the ultimate goal is to expand the campus into 15 acres, Haytko-Paoa said the college is currently looking at an incremental expansion, starting with a 3.2 acre lot owned by Molokai Properties Ltd (MPL), also known as Molokai Ranch.
"Its unfortunate that land prices have gone down," she said. "I'm afraid it's harming the negotiations."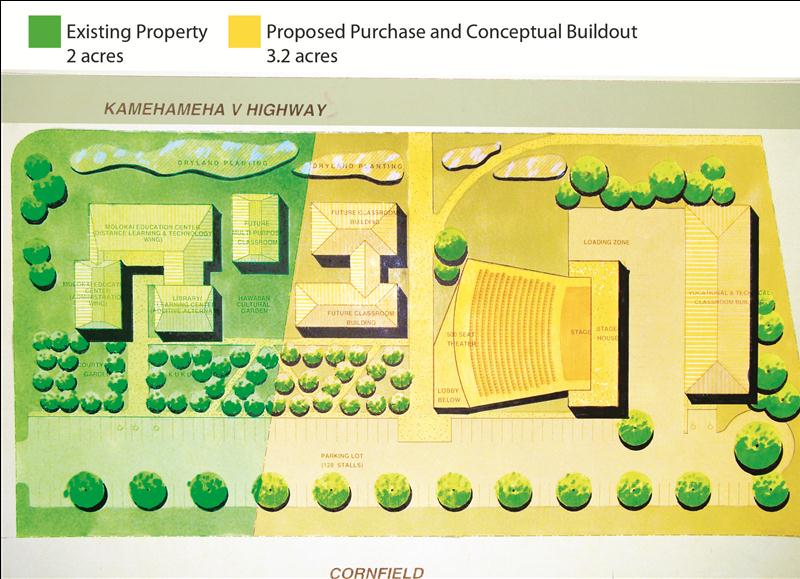 go another 40 years for a little more than this," he said, referring to the land negotiations.

For What It's Worth
With the recent appraisal of $253,000, each acre comes out to be around $80,000. However, the two most recent sales in the area by MPL – 13-acre Duke Malia Regional Park and the 5-acre fire station lot – sold for an average $25,000 an acre.
"I can't see how it's worth more than $25,000 an acre given current land sales, and they didn't have the huge encumbrance that will impact the property's marketability," said DeGray Vanderbilt, former chairperson of the Molokai Planning Commission, at the advisory meeting. "The community plan calls for this area to be a college."
Haytko-Paoa said that while the chancellor of Maui College, Clyde Sakamoto, represents Molokai's interest in the negotiations, for all parties to come to Molokai and see the residents' passion could push the acquisition home.
"It shouldn't have to be this hard," concluded Haytko-Paoa.