Colleen Sumitra Mahealani (Hiro) Colipano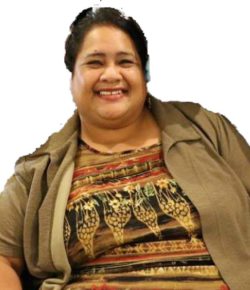 Colleen Sumitra Mahealani (Hiro) Colipano, 53, of Maunaloa, Molokai, passed away on August 18, 2022 in Honolulu. Born in Honolulu, HI on March 24, 1969, she was the wife of Nelson Colipano, daughter of Atilano Tamba Hiro (deceased) and Janice Pele. She was an accountant/bookkeeper/administrator, enjoyed cooking, loved to sing, dance and music of all kinds, was able to make people comfortable and had a spirit of giving and serving.
Her Celebration of Life will be held on Saturday, October 15, 2022, at the Maunaloa Community Center in Maunaloa, Molokai, Hawaii. Visitation (time to visit with the Ohana) will be at 9am-10:30am and Services/Program will begin at 10:30am-11:30am with lunch to follow. Casual attire.
She was preceded in death by father, Atilano Hiro; stepfather, Joseph Pele; half-brother, Dennis Hiro; half-sister, Donna Hiro.
Colleen Colipano is survived by her husband Nelson Colipano and son Steven Sloan. Her siblings include; brothers, Donald Kahookano of Maunaloa, Cameron Hiro (Jacqueline) of Hoolehua, Patrick Hiro (Julie) of Hoolehua, Raymond Hiro (Michelle) of Maunaloa, Joseph Pele (Karen) of the Mainland, Michael Pele (Valerie) of the Mainland, John Pele (Nani) of Maunaloa, ; sisters, Donna Evans of Maui, Kahana Dekneef (Dustin) of Maunaloa, Rose Hiro of Maui, Malia Shepherd (David) of Hoolehua, Paulette Espaniola (Daniel) of Maunaloa and many nieces and nephews that loved their "Aunty Colleen".