Closing Time for General Store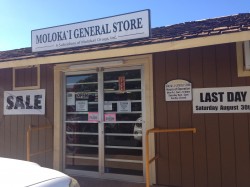 For three years, Molokai General Store has been a one-stop shop for just about anything a customer might need. However, if you take a drive down Ala Malama Street, you can't miss the large, neon-colored closing sales signs plastered across the storefront. Come late August, business at the general store will close for good.
"We thank the Molokai community for their support of our business," said CEO and Chairman David Mikami.
From office supplies and home goods to linens, fishing supplies and toys, the old-style plantation store offered a wide range of essentials. But after years in business, the general store will close its doors on August 30, Mikami announced last week. The store is throwing a clearance blowout sell from now until then, with the entire inventory at 20 percent off and select items at higher discounts.
"It's sad to see them close and to see everything empty out because I like shopping here," said Molokai resident Nani Duvachelle.
Mikami said the business struggled in recent months because of declines in sales. The months between Labor Day and the start of December were notable slow sales periods during the fiscal year for Molokai General Store.
"Over the past six months, the store has been underperforming and we have seen month-after-month of declining sales while the expenses of overhead and maintaining a full inventory have increased," Mikami said. "…We could not wait until the Christmas shopping season for sufficient growth and sales; we needed to close sooner than later."
The building that housed the general store has seen many uses since it originally opened as Molokai Drugs and has a rich family history.
President of the store Kimberly Mikami Svetin's late grandparents Richard and Betty Sakata ran Molokai Drugs from 1946 to 1995.
When Molokai Drugs moved to its present location on Kamo`i Street in 1995, brothers David and  Jon Mikami converted the Ala Malama space to the Molokai General Store. They later rented out the space – first as Guy's from 1996 to 2007, then as G&M Variety Store until December 2010 when it closed. The General Store reopened after a 15-year hiatus in 2011 and has occupied the storefront since then.
"On behalf of our Molokai General Store employees and owners, we are humbly grateful for the support of our island's residents during this bittersweet time of closing this store," Svetin said. "We want to thank our loyal customers for their aloha and kokua of our stores and our employees during the past 79 years since my late grandpa moved from Honolulu to Molokai in 1935 to open Molokai Drugs."
Svetin said in a Dispatch story printed in 2011 for the reopening thatthe Mikami ohana wanted to avoid leaving the space vacant. They also saw G&M's closing as an opportunity to bring back Molokai General Store and fill it with products that they've always wanted to carry, but couldn't fit in Molokai Drugs.
"When we opened Molokai General Store in 2011 in Molokai Drugs' former space on 'Main Street,' we hoped that we could bring in housewares and sporting goods at market-appropriate prices," Mikami said. "We had goals and expectations of how the store would perform."
Currently, eight full- and part-time employees work at Molokai General Store. According to the press release, staff members displaced by the closing will be offered positions at the family's other two stores, Molokai Drugs and Kamoi Snack-n-Go. Employees laid off in this process will be offered outplacement assistance. Molokai General Store is still determining staffing due to natural attrition, Svetin said.
"Without the support of the Molokai community we would not be in business," Svetin said. "We are here to service our 7,500 residents with aloha and love, and we are very fortunate to be living in a community that supports local businesses and our employees and their families. We really are blessed. Mahalo."
The family will be announcing future plans for the 4,300 square-foot space in the upcoming weeks. For more information, contact Kimberly Mikami Svetin at 646-1851.