A Close Up Look at the Future
Molokai students venture to D.C.
Even after a week of waking up early, walking for hours upon hours, debating with hundreds of other high school kids and crashing at their hotels late at night, none of the Molokai High School Close Up participants had a bad thing to say about the program.
"After two or three days the kids don't want to come home," said Earl Nakamura, the former Close Up coordinator, social studies teacher and vice principal at MHS.
At their `Ohana Night last Wednesday, the 17-member group said they learned how to travel safely and practically, to take chances when you have something to say, and how grateful they are to live on Molokai.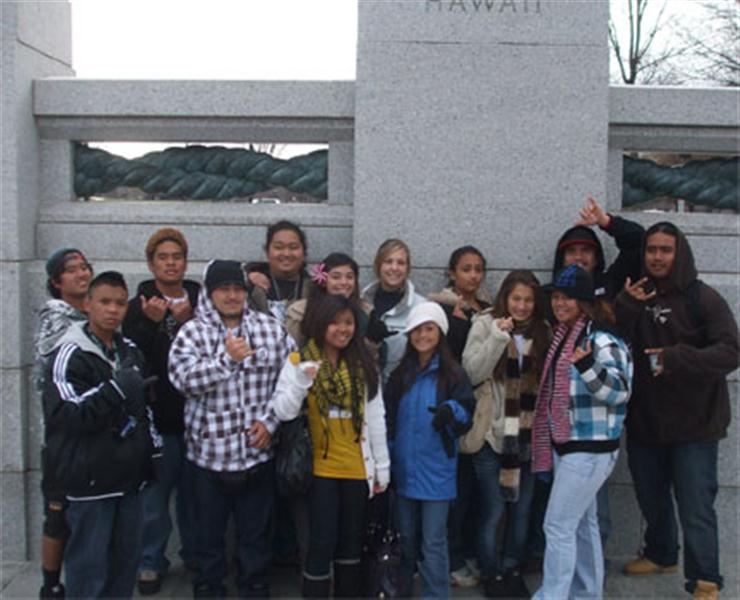 opened their eyes to what's outside Molokai or even the state."
Bicoy added what many students felt about their experience: "It was a life-changing trip."
Mahalo
The Close Up advisors of Molokai High School would like to thank the following organizations and individuals who generously supported 17 MHS students to visit and learn in Washington, DC. Heartfelt appreciation to the parents and families who shared their children with us for indelible and unforgettable memories:
Close Up advisors Ric Ornellas, Diane Mokuau, Laura Buller, Kainoa Pali, and Karen Harada; Coffees of Hawaii (Maria Holmes and Pua Naeole); Island Air; Friends of Molokai High & Middle Schools (Ron Kimball); Grace Episcopal Church (Lynette Schaefer); Kanoe Davis Hula Halau; Kualapu'u Cookhouse; Maui County Parks & Recreation; Misaki's, Inc.; Molokai Canoe Club (Liko Wallace); Molokai Fire Department (Nathan Ignacio); Molokai Heritage Company (Pat Lynch); Molokai Homestead Association; Only on Fridays; Office of Senator Daniel K. Akaka (Gladys Karr and Katherina Deery); Office of Senator Daniel Inouye;
Office of Representative Mazie K. Hirono (Pamela Okimoto); Queen Liliuokalani Childrens Center (Kekama Helm); Desiree Cabalar; Noe Cluney; Kim Helm; Kellie James; Glenn Kondo; Vance Makanui; Kerianne Mokuau; Earl Nakamura; Mary Schaefer Estate; Donald & Joanna Sunshine; Molokai Visitors Assn (Julie Bicoy);
Lola Spencer; Denise Kelly; Michelle Naeole; Aloha Week committee; Makahiki committee; Dayna Harris; and Jean Tanaka.
The students would then like to thank the chaperones, their families and the community for all their help.