Clifford Makoto Horita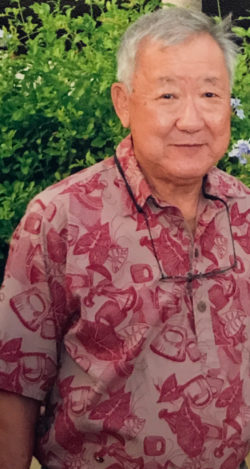 Clifford Makoto Horita, 85, of Makakilo, Hawaii, passed away peacefully on August 17, 2022 at the Queen's Medical Center.
Clifford was born on August 5, 1937 in Haina, Hawaii to Takeyoshi and Jane Horita and was raised in Honokaa on the Big Island.
He attended Honokaa High School where he lettered in football, baseball and basketball. After graduating, he went on to Northern Colorado College where he earned a masters degree in Education. While attending college, he earned a spot on the tennis team and his proudest moment came when he and his partner went on to win the Colorado state doubles title. Colorado was also the special place where he met his future wife, Marian Kashima (Lihue, Kauai) who would become his eternal love of his life.
Upon graduating from college, he returned to Big Island to teach at his former alma mater Honokaa High School.
Clifford had bigger aspirations in life and wanted to become an administrator in the field of education so he and his wife moved to Kauai where in taught at Kapaa High School.
While on Kauai, Clifford and Marian decided to start a family and as a result their son Todd was born.
An Administrators position finally became available so he moved the family to Molokai where he would become the principal at Kilohana Elementary School and at Molokai High School. In 1971 he was promoted to be the Maui District Liaisons Officer where he would oversee all the schools on Molokai and Lanai. In 1984, Clifford decided to go back to being the principal at Molokai High School so he could have a bigger impact on the school community.
While at Molokai High School, he established a positive relationship between students, parents, teachers and the community. He was intergral in lobbying the Maui Interscholastic League to accept the athletic program as full fledged member.
Although he was proud of all these accomplishments, his pride in joy was watching the campus beautification project take place within a 5 year period that resulted in the planting of trees, grass and the creation of the wall murals that adorned the halls of the school.
In 1987, his vision was fulfilled, when Molokai High School received the State Of Hawaii's Most Outstanding Public School Award and in 1988 He was named Maui District's Most Outstanding Principal.
Besides being an educator, he was actively involved in community events, politics and sports.
As a member of the Lions Club, Clifford would be tasked to collect donated eye glasses for the elderly, spearhead clean up events for the town of Kalaupapa, mentor the Leo Club program at Molokai High School and volunteer to pass out treats at the famous Halloween Candy Give Away at the Community Center at Kaunakakai.
He was also active in local politics and was acutely aware of how important it was to the local community. He wanted to make an impact so, he became the campaign manager on Molokai for governor's Ariyoshi, Waihee and Cayetano.
Clifford loved all sporting activities, it didn't matter what kind, whether it was coaching little league, biddy & menehune basketball, watching the various Molokai High School athletic teams, golfing at Kalua Koi Golf Course at the Sheraton Molokai or fishing in the Molokai Whippas fishing tournament. All of these events brought great joy to him.
His life on Molokai was a dream come true. He would spend 37 years on Molokai before moving to Oahu.
Clifford's family would like to take the time to thank the people of Molokai for making his life so blessed. The memories and life long friends that he made will always be a part him. The experience has been priceless and he is so grateful to all of you. You made him feel so welcomed and loved that he couldn't have imagined spending his life in any other place in the world. Molokai is truly special. Mahalo Nui Loa.
Clifford is survived by his loving wife Marian, son Todd (Tammy), grandsons Taylor and Nathan.
Services will be held Saturday October 22, 2022 at Mililani Memorial Park, Makai Chapel, Visitation 5:00pm Service 6:00pm.