Church Awaits Verdict
St. Sophia's looks ahead.
As St. Sophia's Church continues to be investigated for the Feb. 10 fire that gutted its interior, the cause still remains "undetermined," though electrical has been ruled out, according to Darrin Almeida, Maui Fire Department lead investigator.
As parish priest Clyde Guerreiro continues to hold church services at the Molokai Community Health Center, he says their goal to spend Christmas Mass 2011 in the new Saint Damien Church (slotted to be built once St. Sophia's is demolished and building permits are processed) has now become reality.
"We're set to finish ahead of schedule," Guerreiro said. "Possibly three months ahead, or even more."
Guerreiro said they're currently awaiting demolition permits from Maui County as well as bids from license contractors to begin the process of taking down St. Sophia's.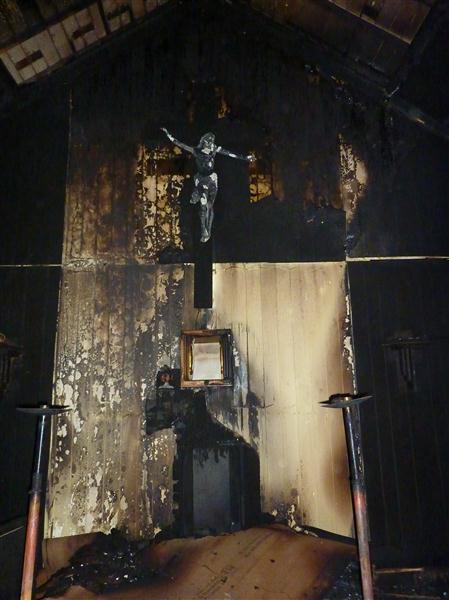 Currently, the adjacent building known as the Damien Center (previously Stanley's Coffee Shop) is being used as the church's office.
Guerreiro said all three buildings (the church and both adjacent buildings used for administration and religious education) will be demolished to make room for the new Saint Damien Church, and eventually accompanied by a book shop and Saint Damien museum.
Although the core of the church was charred and masked in soot and ashes, the tabernacle – a safe-like box at the front of the church – was still intact and would be incorporated with the new church.
Guerreiro said the church is receiving great amounts of support with expediting the rebuilding process, especially from the mayor's office of Maui County and Diocese of Honolulu.