The Christmas Flower
Community Contributed
By Glenn I. Teves, County Extension Agent, UH College of Tropical Agriculture and Human Resources
If there's one plant that conveys the feeling that Christmas is near, it's the poinsettia. Native to Central America and tropical Mexico where they're known as flores de Noche Buena, flowers of the Holy Night, it adorns many households and ushers in the Christmas season. The plant is named after Joel Poinsett, the first U.S. Minister to Mexico, who introduced the plant to the U.S. in 1828. He shipped plants to his plantation in South Carolina, grew them successfully and began giving them away to friends. Poinsettia can be found growing on Molokai as a foot tall plant with pink streaks on its uppermost leaves or bracts.

It took almost 100 years before the real poinsettia fad began – not until the plant's blooming cycle caught the attention of Albert Ecke and his son, Paul. Poinsettias 'bloom' in December and this is triggered by the short day length. Before long, a new holiday tradition was created. At their ranch in Encinitas, California, the Eckes began mass producing poinsettias, and selling them at roadside stands in Hollywood and Beverly Hills. Through a two-prong strategy of hybridizing and intense marketing, the poinsettia tradition was established. Several decades of work refining and diversifying their product bore "flowers." Before long, they created new colors through intensive hybridizing, including scarlet, maroon, peach, greenish, shocking pink, white, and two-tones marbled or splashed, but the reds are still the top seller. Today, delicious new colors include Ice Punch, Eggnog, and Strawberries and Cream.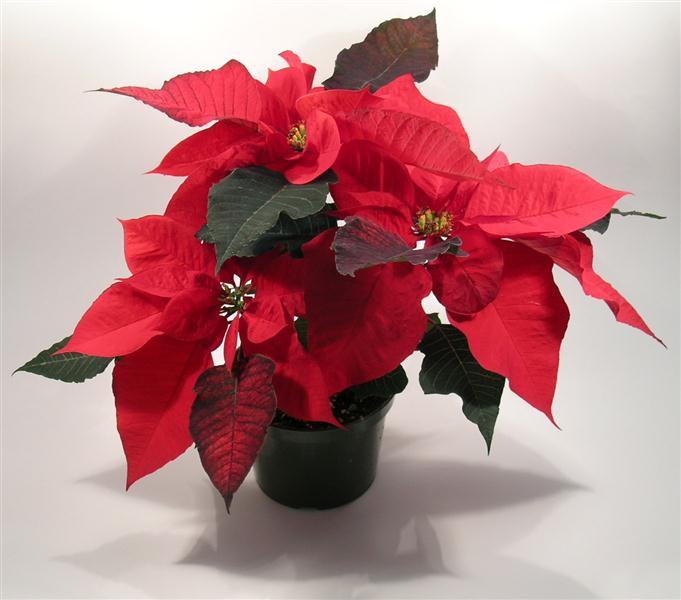 Paul Ecke began traveling nationwide, touting the virtues of this "Christmas plant" and it was a determined and successful marketing campaign few plants have ever enjoyed. The Ecke Ranch branched out, supplying field-grown "mother plants" to growers across the country, who in turn raised individual holiday pots from cuttings. To this day, the Ecke outfit sells plant material to about 80 percent of the American nursery trade – making the poinsettia a wildly successful family venture. Today, the company is led by Paul Ecke III, promotes conservation causes such as saving the polar bear through the sales of a new white poinsettia aptly named Polar Bear. This story is a testament to a farm family who ran with an idea and a dream, and never looked back.
Poinsettia's brilliant color is not from flowers, but from bracts or modified leaves. The true flowers are the small yellow buttons called cyathia. In November and December, as our day length shortens, the bracts begin to form. When caring for poinsettia in the home, situate them where they'll receive bright light, but without extreme heat. The wrapping around most pots will prevent the water from draining, so it's a good idea to make some holes in them and use a saucer to catch excess water. Water plants when they're dry to the touch, and add until it drains from the bottom of the pot.
During the six-week holiday season in Hawaii, over 300,000 poinsettias are sold here. Although poinsettia is a member of a plant family known to be poisonous, poinsettia itself is not poisonous. For more information on the care of poinsettia, you can download a brochure from the UH College of Tropical Agriculture and Human Resources website: http://www.ctahr.hawaii.edu/oc/freepubs/pdf/OF-44.pdf Merry Christmas to all and to all a good night.