Christmas Bicycles
Community Contributed
By Bruddah Frank M. Lawelawe
For the past two years, Pastor Rick, Brother Kyle, my son Brandon and I have been blessed with the comfort of giving back to this community and the families of Molokai. We've helped those that are less fortunate during the Christmas season.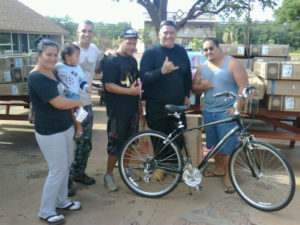 An anonymous donor from Maui donates about 40 brand new bikes every year, shipped over on the Maui Princess just days before Christmas. The bikes are distributed at Kaunakakai Baptist Church, and my job is to go out in the community in search of those who need a blessing. I try to find those who didn't get the year before, just to make it fair.
Words cannot explain the look on the parents' faces when they come to pick up the bikes. One parent had tears in his eyes, humble and grateful for what was taking place. At the request of the donor, the bikes are presents from kids' parents, not Pastor Rick or me.
You don't have to have money to give back to your community. All it takes is heart. God looks at your heart, not the clothes you wear. Look at me — once homeless, a recovering addict and alcoholic — now 14 years clean and sober. Nothing comes close to the feeling I have when I give back to this community.