Checkmate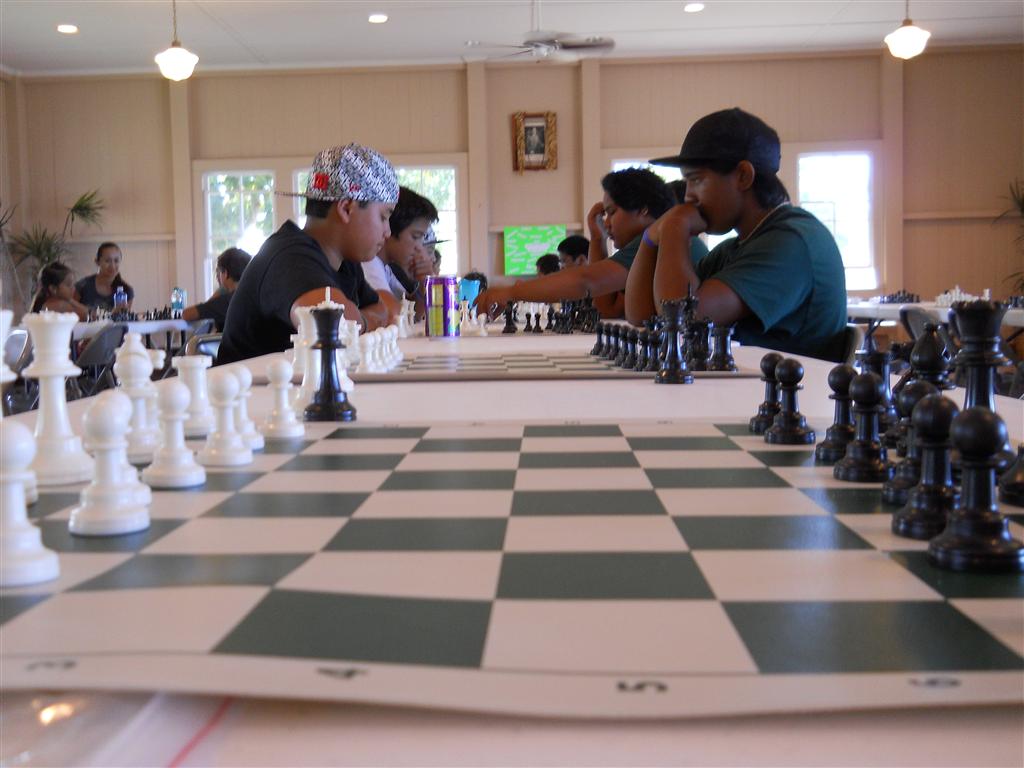 Cody Bocoboc, 13, was one of several participants Saturday who also represented Molokai earlier this year at the state chess tournament in Honolulu, where the middle school team placed second. Bocoboc said his dad taught him how to play when he was younger, but he picked it up again through his school's chess program.
"I like chess because it's fun and I like strategy games," he said.
QLCC Direct Service Specialist Ebra Silva, who helped organize Saturday's tournament, said playing chess teaches students and adults "critical thinking, planning, evaluation and analysis of their moves."
"I think it just helps them to grow more as an individual, and in doing community events like this, it helps to bring the community together," she said.
Local businesses donated prizes for the adult winners, with first place receiving about $250 to $300 of goods. Organizers purchased backpacks from Molokai Surf and filled them with school supplies for the keiki winners. All contestants received small prizes for participating.
Winners
Adult Division (age 18+)
1. Julian Torres, 5 points
2. Cheesung Stone, 4 points
3. Sam Kealoha , 2.5 points
Middle/High School Division (Grades 7-12)
1. Three-way tie: Ken Brito, Jayven Paleka-Wright and Cody Bocoboc; 4 points each
2. Two-way tie: Hanalei Dudoit-Enos and Logan Kamali`I; 3 points each
3. Two-way tie: Kelson Cabalar and Ray-Jay English; 2 points each
Elementary Division:
1. Clancey Wright, 4.5 points
2. Tehya Almazan, 0.5 points
Donors
Molokai Gifts & Things
Moana's Florist
Upcountry Market
Hometown
Hotel Molokai
Maka's Korner
Shop 2 Beauty Salon
Molokai Burger
Kat's Beauty Salon
Hayaku's
Kamakana Country Store
Kualapu`u Market
Misaki's
Molokai Mule Ride
Coffees of Hawaii
Ironwoods Golf Course
Friendly Market Center
Kumu Farms
Rawlins' Chevron Service
Molokai Drug Store
Mana`e Goods & Grindz
Molokai Surf
Denise's Furniture
Paddler's Inn
P & S Refrigeration, LLC.
Imports Gift Shop
Pancho Alcon/Hawaii's Finest
Molokai Pizza Café
Kualapu`u Cookhouse
Simon & Friends Pet Shoppe
Atlas Hardware
Organizers would like to thank volunteers who donated their time, including Ted Takamiya, Cindy Brito, Anthony Fukuoka and Honey Girl English. Planners included Silva, Tubz Kalipi, Nyree Kang, Lani Ozaki, Barbara Kalipi, Kekama Helm and the support staff of QLCC.