Checkmate: Molokai Middle Top at Chess
Community Contributed
By Ted Takamiya
There are 64 squares on a chess board – 32 squares are occupied by various pieces at the start of a game. The unique moves of each piece tests every competitors ability to attack, defend, and counter-attack to achieve the game's ultimate goal of checkmating the opponent.
Eleven Molokai Middle School (MMS) students, under the tutelage of Tubz Kalipi, dedicated themselves over a three week period in March to hone their skills, preparing for the 2011 Hawaii State Scholastic Chess Tournament. Besides chess strategies, Coach Kalipi emphasized the parallel between the game of chess and life where every decision made has consequences, both positive and negative.
The annual tournament was held on Oahu on Saturday April 2 with a total of 141 students from 37 K-12 schools participating in the event.
After placing fourth in last year's tournament, MMS' chess team entered the tournament with the goal of placing in the top three. After eight grueling hours of tournament play with each participant playing five matches, it was announced that MMS placed second in a field of eight teams in the middle school division. With a total of 11.5 team points, they finished two points behind the winning team from Washington Middle School.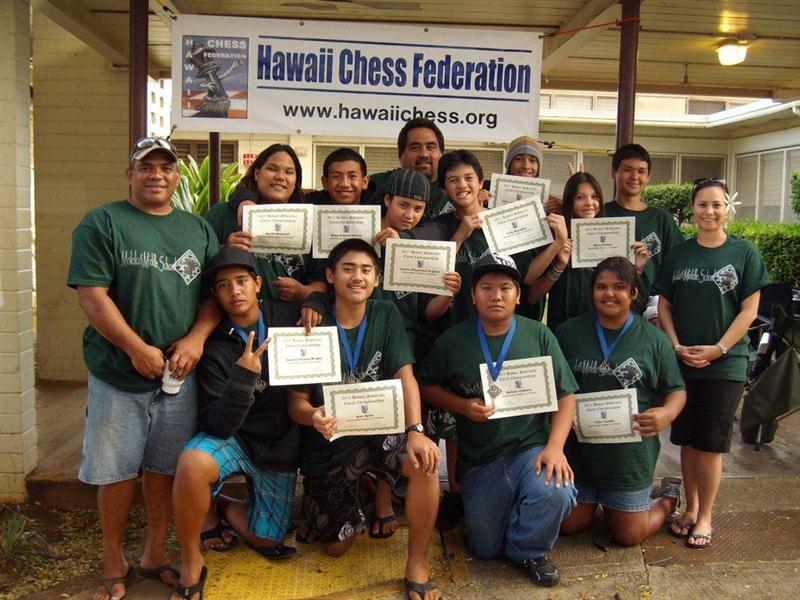 The chess program is supported by Queen Lili`uokalani Children's Center in partnership with MMS and Grace Episcopal Church. A special mahalo to QLCC staff: Kekamaikaikamaikalani Helm and Ebra Silva; MMS Principal Denise Kelly, Corene Helm, counselor, and teachers Laree Mowat, Iolani Kuoha, Fay Huff, Michael Kahale, and Michael Hino; high school counselor Michael Fiorito; the Friends of Molokai High and Middle School Foundation; Ke Aupuni Lokahi; Kelvin Keanini; community volunteers Tubz Kalipi (chess teacher extraordinaire), Julian Torres, Cheesung Stone, Anthony Fukuoka, and Ted Takamiya; Jeffrey Adams, MMS eighth grader, who practiced with the team but was unable to attend the state tournament; and to all the parents and caretakers of the chess participants for entrusting us with the care of your sons and daughters.