Celedonia Gomes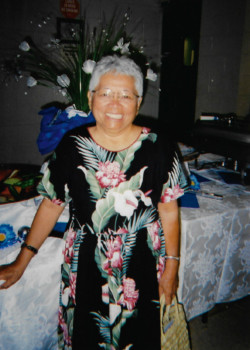 Our beloved mom, Celedonia, known also as Sally or Cele, Gomes, left us peacefully while at home with us to be with our Lord on Aug. 17.
Born on Mar. 3, 1932, she was known to many as Auntie or Nana Sally among our Maunaloa Pineapple Plantation ohana, her church family of Kaunakakai Baptist Church and her fellow workers and customers of her many jobs and services on Molokai – the longest being a clerk at Atlas Bldg. Supplies. Her smile and loving personality will be greatly missed.
She is survived by her children Junedale Ed Misaki, Sydney Lei Gomes, Narda Lino Lollis, Joel "Joey" Corina Gomes, 10 grandchildren and 17 great-grandchildren.
Her siblings are Edward Mapano Leonarda, deceased, Dorthy "Dottie" Tan, Magdalena "Maggie" Albert Delos Reyes, Julian "Jay" Dahang, Julia "Julie" Stewart Oyama, Connie Frazier, deceased, Mario "Pinky" Laura Dahang, Diana Jesse Gonzales, Paulina "Polly" Dahang and many nieces, nephews and cousins.
She was preceded in death by her husband Isidro "Tommy" A. Gomes, her father Juan Mapano, her mother Maura Bediamol Dahang, and step father Paulino Dahang.
Her celebration of life will be held Sept. 8, at the Kaunakakai Baptist Church. Visitation is 8:30-10:30 a.m., and the memorial service will be from 10:30-11:30 a.m.