Celebrating Song: Raiatea Helm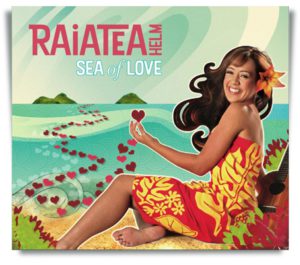 Nominations: Female Vocalist of the Year, Island Music Album of the Year, Favorite Entertainer of the Year, Graphics Award
Album name: "Sea of Love"
The Molokai Dispatch (TMD): Tell us a little about this album.
Raiatea Helm (RH): This album is my sixth project, and it covers the era of 1950s and 60s Hawaiian music. A lot of people aren't familiar with this type of music, which consists of jazz guitar and percussion. It's more of a fun sound that I wanted to feature in this album. Eighty percent of this CD was recorded in a live setting so we could capture the feel they had 50 years ago.
TMD: What is your favorite part about singing or producing music for others to hear?
RH: For me, I feel most comfortable to serve in a spiritual mode, not really a religious type of spiritual but more of a universal. For some reason I can connect with people through music. It's hard to explain the feeling I get when I am on stage, but I can feel people's reactions. I consider myself a performer, and I'd like to bring back traditional Hawaiian music, especially the old ballads that speak of different places in the island and love, because these songs were written at a time when people weren't really facing the distractions like today.
TMD: Where do you get your inspiration?
RH: Thanks to my dad [Zach Helm] and late Uncle George [Helm] who introduced me to traditional Hawaiian music. There's something about that era [50s and 60s] that captivates the true essence of old Hawaii. Being an artist, you observe different generations and different sounds, and I always felt more natural with that era and I enjoy the music. Also, the music reminds me of my tutus who were so kind-hearted and had so much love for their grandchildren.
TMD: What does it mean to represent Molokai, along with other artists, at the Na Hoku Awards?
RH: It's so nice to have true, innocent music. To know that people record because they love the music, not just to record. You can tell when people are well connected with the land and the ocean. I'm just happy I get to produce music people enjoy, that's the main thing.
For more information, visit raiateahelm.com.