Celebrating Prince Kuhio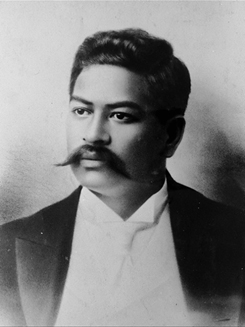 Molokai residents and homesteaders gathered last Saturday to honor the legacy of Prince Jonah Kuhio, who lobbied for the Native Hawaiian advancement and established the 1920 Hawaiian Homes Act, providing land for Hawaiian families.
The annual community event at Lanikeha featured food, Hawaiian crafts, homestead products, exhibits and music. Sponsored by Ahupua`a O Molokai and the Office of Hawaiian Affairs, the celebration was also an opportunity for homesteaders to join and get information on local homestead associations.
"Molokai is where the first homestead began in the 1920s, and without Prince Kuhio we would not have homestead today," said Kilia Purdy-Avelino, one of the event's organizers. "We should recognize him and the legacy he left us."
Prince Kuhio was born on March 26, 1871, and when he was 21 years old, the Kingdom of Hawaii was overthrown before he was called upon to become a successor to the throne. Despite the end of the sovereign rule, he worked tirelessly to better the lives of Hawaii's people.
Prince Kuhio was elected as one of Hawaii's delegates to Congress, and he served in public office for two decades. As a result of his efforts, the Hawaiian Homes Commission Act was signed into law in 1921, and the state's first homestead was established in Kalama`ula, Molokai the same year.
"The only method to rehabilitate the race is to place them back upon the soil," said Kuhio of the establishment of Hawaiian Homelands.
Today, homesteads are still thriving, and even those who aren't homesteaders benefit from his legacy. Kualapu`u School, Molokai Middle and High Schools are on homestead lands, as well as Ka Honua Momona's office and fishponds. There are other farms and organizations on homestead lands as well, and some of the produce that are sold in the stores and markets grown by our homesteaders, according to Purdy-Avelino.
The Prince Kuhio celebration also offered homesteaders a chance to bring a product that they grew or made to trade with fellow homesteaders, in the spirit of the traditional cultural practice of bartering.