Celebrating Kuhio
The Lanikeha Community Center transformed into a hearty birthday celebration as local vendors, music and entertainment attracted homesteaders and non-homesteaders alike to celebrate the man who led the 1921 Hawaiian Homes Act and the island where his efforts were first put into practice.
"Without the land, who are we?" said Colette Machado, Molokai chairperson of the Office of Hawaiian Affairs (OHA). "We would be homeless if we didn't have a land base or homestead. That's how significant Prince Jonah Kuhio Kalaniana`ole was."
Next in line for the throne when the Kingdom of Hawaii was overthrown in 1894, Kuhio was elected as Hawaii's congressional delegate, advocating for Hawaiian Homes and rehabilitating his people.
According to Machado, the Kalamaula area was considered a demonstration project to the act and became established as the first Hawaiian Homes settlement. After it was deemed successful, it expanded to Ho`olehua, then to different homestead communities statewide. Today, Molokai has over 25,000 acres and 200,000 acres statewide, which are set aside for the Native Hawaiians through the Department of Hawaiian Homelands, according to the department's website.
This year's celebration, organized by Ahapua`a Molokai and honoring Kuhio's 143rd birthday, brought over 20 local crafters, community groups and organizations as well as entertainment from the Punana Leo Hawaiian language immersion school, Moana's hula halau, kupuna groups, and a variety of local bands.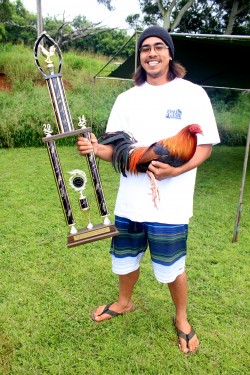 New to the event this year was the Molokai Game Fowl Association, hosting a Poultry Show adjacent to the community center. For bragging rights and a sizable trophy, this year's grand prizewinner was Kyle Kaiama.
"The Gamefowl Association [is part of] Hawaiian culture, so we incorporated them in Kuhio Day this year, bringing education and awareness to the people and preserving and perpetuating gamefowl on Molokai," said Lynn Decoite, president of Ahapua`a Molokai and co-organizer of the event.
As the annual event comes around on March 26, granting keiki and makua a day off from school and work, some use this day as a way to pay respect to history.
"It's important to celebrate Prince Kuhio Day and keep this tradition alive," said Pa`a Aina, Prince Kuhio Day participant.
Machado urges the community to recall the day and what it means to Native Hawaiians moving into the future.
"We still have challenges [with homelands] today but we're only going up," said Machado.  "You've got to remember…that our voice as native people needs to continue to be lead with priorities on land, water and preservation of our entitlements."