Celebrating Dr. King with Gardening
Sust`ainable Molokai News Release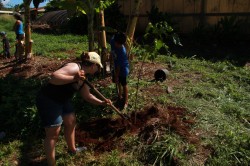 Last Monday, Sust`ainable Molokai celebrated Martin Luther King day with a community tree planting and workday at the Sust`ainable Molokai community permaculture farm. Honoring the national day of service, we had a small gathering of community, and our FoodCorps and Americorps service members, to put in some garden work and plant some trees.
The day began as it always does at the permaculture farm: Fred Richardson, the school garden coordinator, instructed everyone to walk around the site to survey and find pollinators. He then displayed the plants and trees that we'd be planting later that day — bamboo, pineapple, milo, coconut and mango — a diverse array, fitting to celebrate Dr. King who preached diversity and acceptance.
Before actually getting to the planting, we all performed various sites around the farm. Some weeded the taro sunflower beds, some took to the weed whacker, and others helped saw the giant grasses. At the end of the day we all felt tired but fulfilled, and we closed with a lunch back by the picnic tables at the office. It was a small but diverse group: parents, young children and young adults, from Los Angeles, New York and Molokai. Looking ahead, our next community workday will be held on Feb. 22 at the permaculture site.