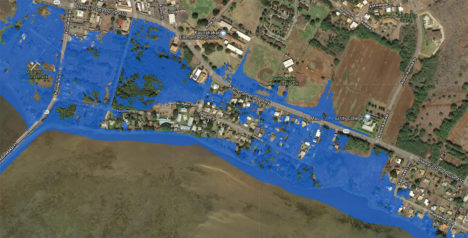 By Audrey Newman, Community Reporter
A team of committed students, teachers and community members participated in the statewide Blue Line Project to "draw the line on climate change" and raise community awareness of sea level rise projections for Molokai last Saturday. Sust`aina ble Molokai helped volunteers create a temporary blue line of ocean images and climate change messages along Kamehameha V Highway in front of Duke Maliu Regional Park to show the area vulnerable to permanent flooding in the next 40 years.
"We chalked in a blue line to show where the new shoreline will be if we don't take drastic measures [to address] climate change, sea level rise, and carbon emissions," explained Vicki Newberry, team leader for Aka`ula School.
The blue line is based on the 2017 Hawaii Sea Level Rise Vulnerability and Adaptation Report, which estimates one meter (3.2 foot) increase in sea level. Projections for the entire Molokai coastline can be viewed at pacioos.hawaii.edu/shoreline/slr-hawaii/. Seventeen communities across Hawaii joined this Earth Day event, organized by the Blue Planet Foundation with local partners, to send a clear message from Hawaii that everyone across the globe must reduce our greenhouse gas emissions and unsustainable reliance on fossil fuels. Look in future issues of The Molokai Dispatch for more information on how climate change and sea level rise will affect Molokai.…