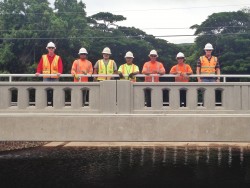 There's good news for drivers who live on the east end as well as residents of the Kawela area: construction on the Kawela Bridge is finally complete.
The former, 70-year-old bridge was deteriorating, and a $6 million construction project began back in 2012 to remove the original bridge and replace it with what you see today.
The old bridge, constructed around 1940, was clogged with stream deposits which impeded the flow of water below the deck, resulting in flooding in neighboring properties, said Project Engineer at Goodfellow Bros., Inc., Clayton Morrell.
Goodfellow Bros., Inc was contracted to remove the old bridge and build a new one in its place with a capacity to handle high volumes of water to pass beneath the roadway and remove stream deposit buildup that migrates down, Morrell said.…