Carving Out Capital
Sculpture workshop provides economic outlet.
Clustered around a small easel with red-stained fingertips, several Molokai artists studied the profile of a man in clay. Their instructor was demonstrating the delicate way to skim away just enough clay to shape a cheek.
These students attended a sculpture workshop last week – not only to expand the skills of already talented people, but also as an innovative boost the island's lagging economy. The workshop is intended to give artists another outlet to earn money off their art.
The U.S. Department of Agriculture (USDA) Rural Development provided a $50,000 Business Enterprise Grant, which provides training and technical assistance to small businesses – in this case, the Molokai Heritage Company through Lokahi Pacific.

"Because Molokai so economically depressed, we're trying new avenues to earn money," said a workshop student and local artist, Joan Pawlak reed.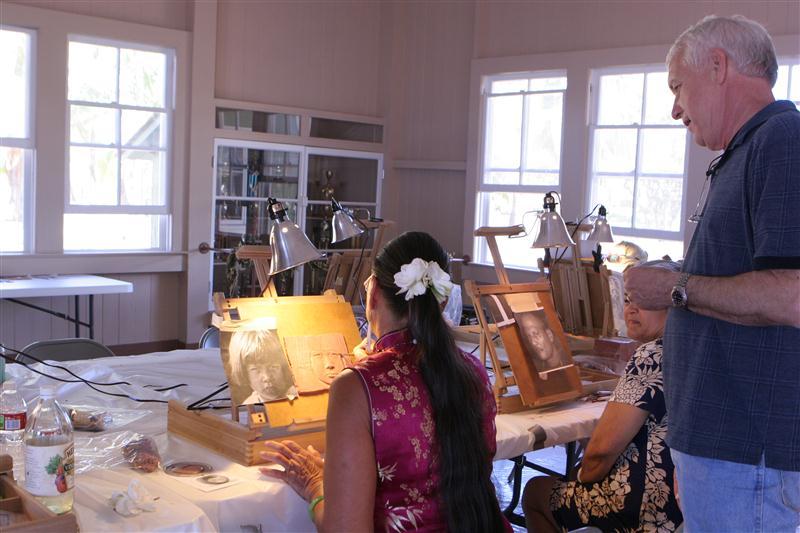 ," he said.
Cooperative
Another goal of the workshops is to bring some of Molokai's many artists together and form a cooperative of commercial artists, Lynch said.
"My hope is, out of this a nucleus of these 14 people, they can form a cooperative or group for bulk purchase supplies," he added. With a casting shop on Molokai – located by Hayaku gas station – and a group of artists who know how to use it, those involved in the project said this could create a new niche Molokai artists can fill.
Other artists could come to learn – and spend money on hotels, rental cars, and restaurants – boosting the economy even more, Lynch said.
"This could create a magnet to bring other artist from other islands," Pawlak reed said.
"It would be great to create some sort of art Mecca," Geng said.