Cartoon Crafter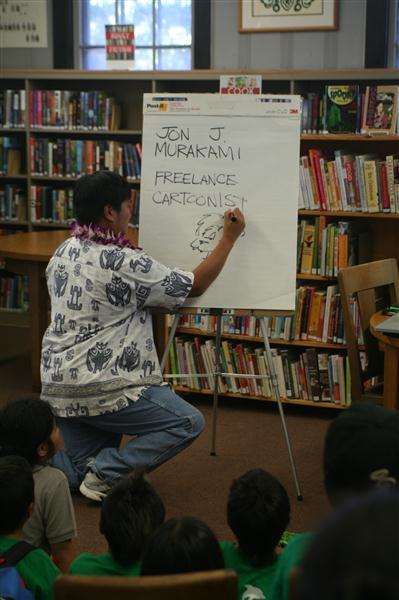 "Someone name an animal," the presenter asks his audience at the Molokai Public Library last Thursday. Children and adults enthusiastically shout responses as he begins drawing on his easel. What started as disconnected lines and shapes suddenly begin to take form as a joyful lion. This is the world of Oahu-based cartoonist Jon Murakami, and during one of the stops of his seven-library tour around Hawaii – themed "picture it" – he shared a little bit about himself and his creative career.
As a child of the '70s, Murakami described himself as an "indoor kid" who enjoyed the Sunday funnies. His parents helped push him toward an artistic career which, now 40 years in the making, encompasses artwork for greeting cards, cartoons and children's books.

For more information on Murakami, visit his website at web.me.com/jonjmurakami/JonJMurakami/Welcome.html.