Caroline Bicoy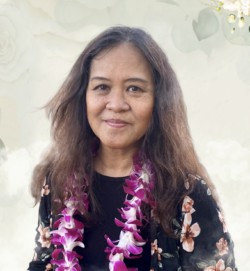 Caroline Bicoy, 73, of Ho'olehua, Molokai, passed away on Aug. 29. She was born on July 21,1950 in Honolulu.
Caroline graduated from Radford High School. She relocated to Molokai with her predeceased husband, the love of her life, Gerald Bicoy in the late 1970s. Caroline is predeceased by her parents Catalino Monderen, Miriam Monderen and Mary Rodrigues. She is also predeceased by her brother, Andrew Monderen. Caroline is survived by two brothers, Bernard (Mozel) Monderen of Makakilo and Shawn Murdoch of Honolulu and her two sisters, Debbie Rodrigues of Kahului and Frances (Richie) Young of Lihue. She is also survived by her three children, Cheryl (Daniel) Sterner of Ho'olehua, Kezia (Daniel) Asao of Wailuku and Matthew Bicoy of Ho'olehua. She leaves behind her grandchildren Amber (Kawika) Ka'ahanui of Kaunakakai, Marissa (David) Gomes of Kaunakakai, Michael (Gelly) Sterner of Ho'olehua, Azahlea Wickes of Honolulu, Tabitha (Daniel) Tuzon-Dayaon of Las Vegas, NV Brenden Uemura-Asao of Cypress, CA and several beautiful great-grandchildren.
To honor the memory of Caroline, as she rests in Christ's love in paradise, a celebration of life will be held on Oct. 14 at King's Chapel Molokai. Visitation will begin at 10 a.m. with reflections and service at 10:30 a.m., lunch to follow.