Cancer Fund Gets $9K Grant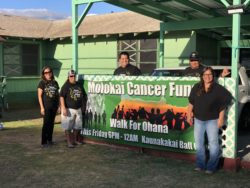 Molokai Cancer Fund News Release
Molokai Cancer Fund received a grant for $9,000, which will help Molokai residents diagnosed with cancer and are undergoing treatment with travel to Honolulu or Maui. Travel costs can be so expensive for those who have limited or no travel benefit from their health insurances (underinsured or uninsured).
This is the first grant funding received from Bayer and we will keep helping our Molokai Cancer patients and their caregivers through people's donations and through our annual Walk for Ohana Fundraising event which was halted due to the pandemic. On behalf of Molokai Cancer Fund, we would like to express our best gratitude to Bayer Molokai, especially to Dawn Bicoy who always keeps us informed and to Stacie Sasagawa from Oahu who also sends reminders.
Molokai Cancer Fund is a nonprofit organization formed by a handful of Molokai residents in 1995 and established a 501 C3 nonprofit organization status. The organization continues to work to assist Molokai Cancer patients. Molokai still has cancer victims missing outer island chemotherapy, radiation and or other medical appointments because they can't afford the extra airfare expenses. The Molokai Cancer Fund wants to give Molokai people a fighting chance to deal with cancer.
Molokai Cancer Fund can assist with the air, ground, lodging, limited chemotherapy copay. You must be a three-year resident, must have a cancer diagnosis, underinsured or uninsured. Call Kukui Ahi Patient Navigation Program at (808) 553-3171 if you need help and ask for Avette Ponce.
Bayer Fund, a philanthropic arm of Bayer, is a nonprofit organization dedicated to strengthening the communities where Bayer customers and employees live and work by providing funding for food, nutrition, education and community development projects.