Business Planning Classes
MEO Business Development Center News Release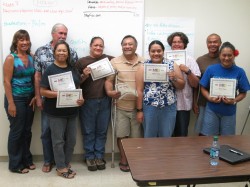 If you're a Molokai entrepreneur looking to step up your game and better manage or grow your business, a series of classes over the next two months will teach you how. The MEO Business Development Center (MEO BDC), a program of Maui Economic Opportunity, Inc., will present a series of evening classes for entrepreneurs during the months of August and September.
The Core Four Business Planning Classes cover how to set goals, do market research, determine pricing, make the sale, understand and create cash flow projections, and write a business plan — everything you need to know to start or grow your business. Kuulei Arce serves as the primary instructor for this class.
The six-week series of classes begins on Tuesday, Aug.  27 and continues on Tuesdays and Thursdays through September from 6:30 to 9 p.m.
Registration is required for the six-week series. For this session the tuition is $300.  We do have financial assistance available so please call to get more information from Kuulei Arce at 553-3270.
All classes will be held at MEO Building at 380 Kolapa Street in Kaunakakai.
Core Four classes are also ongoing on the islands of Lanai and Maui.