Business is Booming
The Aina Momona – Hawaiian for the "bountiful land" – Market apparently isn't quite "momona" enough to keep up with business in Kaunakakai. The market, located on Kamehameha V Highway next to the Bank of Hawaii, offers an island-wide selection of fresh fruit, vegetables, flowers and beef from local growers. Market Coordinator P.J. White said business has been so strong that they have had to cut back from three days a week to two.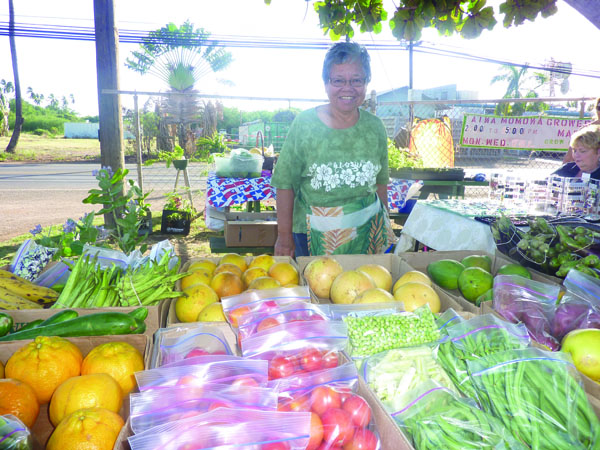 Avelina Danioan is one of the eight to ten regular growers who sell their produce at Aina Momona on Monday and Wednesday afternoons. White said they recently stopped opening on Friday's because most of the week's supplies had been bought by then. People from Kualapu`u to Halawa come to the market to buy and sell. Charles Niles of Halawa Tropical Flowers Farm said that he makes the trip twice a week because it gives the business regular recognition in the community.
"It's a showcase for us," Niles said. "We can consistently have flowers in Kaunakakai and we are now getting regulars."
The market also offers fresh meat orders and jewelry. Ninety percent of the food is organically grown and all of it comes straight from the Friendly Isle.