Building the Future
Molokai Habitat for Humanity finishes another home.
After two years and helping build four houses, Cedric Alonzo was finally given the keys to his own house. Alonzo picked up the keys at the blessing and dedication of his home last week, built by Habitat for Humanity.
"This is the crying moment," said Charlotte Seales, president of the Board of Directors of the Molokai Habitat for Humanity. "When I walk in [the house] I feel so much joy for the family."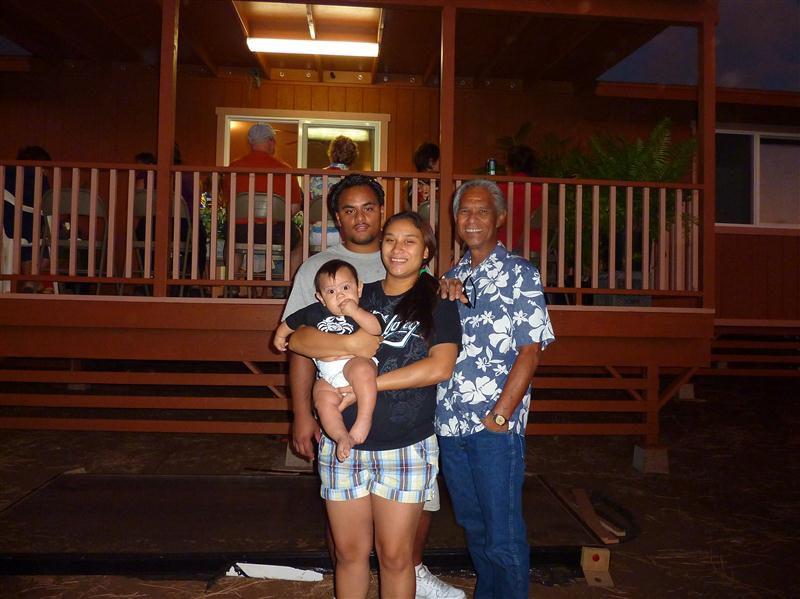 All Habitat homeowners help in the construction of their homes, as well as other Habitat houses, which Emillia Noordhoek, the resource development director of Molokai Habitat for Humanity, calls "sweat equity." The families and individuals that qualify for a Habitat house are constant volunteers on other Habitat builds. Alonzo's house is the organization's 16th on Molokai.
"It's a little different working on this house. I was more comfortable working on others' [houses]," Alonzo joked. His new four-bedroom house is one of the largest Habitat has built, and all of his new appliances are energy-star rated.
Molokai's Habitat for Humanity is one of the greenest of all the Habitat organizations. The organization is the only in Hawaii with HERS (Home Energy Rating System) ratings, and in January will be the first with a LEED (Leadership in Energy and Environmental Design) certification.
Their next step is to set up 'rehabs,' or rehabilitated homes – instead of building brand-new houses, Molokai Habitat will upgrade run-down houses for qualified applicants.
"It's reducing our carbon footprint, and helping someone to stay in their house," Noordhoek. "We're rolling on a new track."
Their "new track" also includes partnering with the Homesteaders association to put on educational workshops for all residents interested in energy consumption and financial literacy. Noordhoek said they hope to get the classes started in January.
"Molokai is one of most economically challenged island, with [high] unemployment, and paying the most in energy in the U.S. and the other islands," she said.
Noordhoek said they are still accepting applications for both new houses and rehabs. More information can be found at their office, the Lanikeha Center in Hoolehua, or calling 560-5444.
The results for these applicants are rewarding.
"It's a sense of pride, having a direct hand in the construction of your home," Alonzo said. "Just knowing that it's a home that I can afford."