Broiler Chicken Project
Sust'ainable Molokai News Release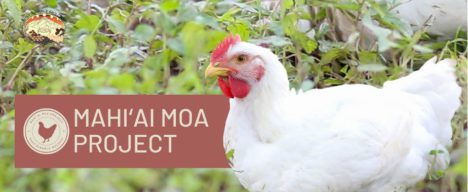 The Molokai community has a new opportunity to increase local poultry production, boost our island's economy, and support farmers and ranchers in their business goals. Sustʻainable Molokai is looking for 30 beginning Native farmers/ranchers on Molokai for our Mahiʻai Moa Project! This project is a five-month educational program on commercial broiler chicken production utilizing a blend of in-person and Zoom classes.
Participants will have access to workshops with J. Ludovico Farm, workshops with the College of Tropical Agriculture and Human Resources (CTAHR), off-island field trips, one-on-one farm business support with a Farm Business Specialist, a built-in market for broiler bird sales, a cohort-style model that encourages farmer-to-farmer support, and $4,000 worth of supplies to get your chicken business up and running.
Before applying, please review the Mahiʻai Moa Project informational Zoom webinar for eligibility and program requirements. The USDA defines beginning farmers and ranchers as those who have operated a farm or ranch for 10 years or less. The webinar and application can be found at linktr.ee/sustainablemolokai.
Applications will close on Friday, April 14 at 5 p.m. For more info, please contact Lori Pastrana, manager of farmer training, at Lori@sustainablemolokai.org or call (808) 658-0515.
Sustʻainable Molokai is a nonprofit community development organization committed to restoring ʻaina momona (thriving people and abundant land) to Molokai. The Mahiʻai Moa Project is funded by the Administration for Native Americans (ANA) and the USDA Beginning Farmer and Rancher Development program. Learn more at sustainablemolokai.org/food-sovereignty/mahi-ai-moa.