Breaking the Silence
Vigil Remembers Malia and Kaimana Kahalewai
"I want to be the last mother standing here," said Mary Jane Kahalewai, as she stood before community members — each holding a lit candle — remembering the lives of her children Malia and Kaimana.
A vigil gathering was held last week in their honor and other victims of domestic violence.
"God can take what is deadly… what is wrong… and something good can come out of it," said Pastor Robert Sahagun on the Molokai Public Library lawn at dusk last Wednesday. "And that is why we're here."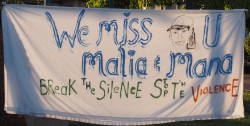 "For us, it's about awareness, giving aloha to the family and [letting people know] we're available if anyone needs help," said Wanette Lee, Program Director of Hale Ho`omalu Women's Shelter and the Alternatives to Violence Program. She added the vigil offered closure to family and loved ones, but also a new beginning to start over.
Lee said the Molokai domestic violence hotline is available 24/7 by calling 567-6888 for a place to stay or just to talk, and when in a crisis, always call 911.
"A lot of people believe, '[domestic violence will] not happen to me or my family,' but you never know," said Lee. "Silence can sometimes bring more harm than good."
With a goal of breaking the silence, nearly three dozen Molokai residents came out to share memories of Malia and Kaimana. Some speakers also recounted their own experiences with domestic violence.
Survivor and advocate Linda Dudoit shared her abusive past, even though "it's not easy to come up here," she said.
"I worked but had no money — he made me broke," she remembered. "My son told me, 'why do you stay, Mama?'… There's no place to go, no money… when you love, you go back, but you can't change them," she said.
Finally, after 18 years, she left.
"Remember, stay strong and believe," she told her audience. Today, she is happily married to man who is himself an advocate against domestic violence.
Mary Jane Kahalewai said she wants to turn the pain of her children's loss into an effort to end domestic violence through legislative action. She said she also believes it is important to look at ways to better address treatment of mental illnesses like bipolar disorder and schizophrenia, which sometimes lead individuals to abusive behavior.
Marlin Lavoie, who was charged with Malia's murder in March, was recently granted the request for a mental fitness evaluation before standing trial. Lavoie's attorney said the Honouliwai man was suffering from a "physical or mental disease, disorder or defect" at the time of the shooting and is not mentally capable of understanding court proceedings. He has pleaded not guilty to charges including second-degree murder, abuse and third-degree assault.
Family and friends of Malia said the nine-year relationship between she and Lavoie had been abusive, evidenced by multiple domestic violence arrests and restraining orders filed against him. One family member who spoke at the vigil said they were always worried for her safety.
Malia's younger brother, Kaimana, committed suicide shortly after her death.
Five in Hawaii, including Malia and Kaimana, have lost their lives to domestic violence so far this year, according to Molokai advocate Rose Pettigrew.
"May Molokai be a spotlight in domestic violence being wiped off this island," said Sahagun.