Boys' Volleyball Revitalized
Baseball falls short to St. Anthony.
The Molokai High School boys' volleyball team went into this weekend's game humbled from last week's defeats, and came out victorious. On Friday, Kawaiola Kalipi recorded 31 assists and six aces as the Farmers swept Lanai, 3-0, in their first victory of the season.
On Saturday at The Barn, the team finished what it started, with another 3-0 victory over the Pine Lads. Haaheo Falealii shelled out 16 kills.
"They came around and improved a lot [since playing Seabury Hall]," Coach Bill Dudoit said. "It was the overall teamwork. They're becoming more well-rounded."
The Farmers, who improved to 2-1, took Lanai in all three sets on Friday – winning 25-19, 25-21, 25-22. Falealii led Molokai with 15 kills, followed by Julien Bumatay and Claude Kapuni each adding six kills to the score board.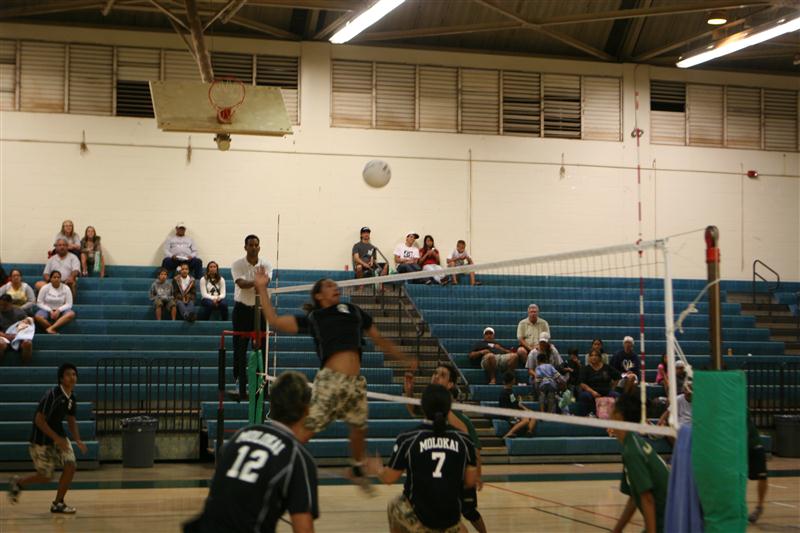 program," Dudoit said. "They were eighth in State last year."
The Farmers will host Hana on April 23 and 24.
Baseball
Last weekend, Molokai High School's baseball team succumbed to the hitting prowess of St. Anthony High School, who defeated the Farmers in a triple-game series at Maehara Stadium on Maui.
The Trojans swept the Farmers with a 10-3 victory on Friday night, and a double-header win on Saturday – defeating Molokai 13-5 in the first game, and 12-2 in the second.
St. Anthony jump started Friday night's game, scoring five runs in the first inning and two in the second, holding the Farmers to only eight hits with two walks and four strikeouts.
Saturday's double-header saw the tough Trojans steal the opener, and close out the day by earning a six-inning victory, limiting the Farmers to five hits with three walks and nine strikeouts.
The Farmers fell 2-4 in their nine-game regular season. Coaches were unavailable for comment.
The baseball team will host Seabury Hall in its first home-game series April 16 and 17.
Track & Field
Molokai's track and field team brought home one third place, and a few personal bests from last weekend's track meet at War Memorial Stadium on Maui.
Senior Kaili Levi earned himself the third place spot in shot put, throwing 42 feet. He also received a personal best of 113'7" in discus, putting him at seventh place.
Other highlights of the meet include Akona Adolpho's fourth place in the boys' 1500 meter race with a time of 4:49 – a personal best – and Hunter Pawn-Kalilikane, who earned sixth place in the boys' 100 meter dash with a time of 12.49.
Coach Jesse Ford said the team has reached the point of the season where fatigue has begun to settle in, so racing at this point is crucial to enhance their athletic development.
"You find out who you really are, where you really are at when you race like that," she said.
Ford added that the team did well to stay in the mix and is on target to start resting for maximum performance in the Maui Interscholastic League Championships April 30 through May 1 at the War Memorial Stadium.