Boys' Volleyball Bounces Back
The Farmers' volleyball team pulled wins against the Lanai Pine Lads last Friday and Saturday in Lanai City. The two wins put the Farmers at 2-2 on the season.
Senior David Gomes had ten kills on Friday night, and had help from his teammate, Paka Adolpho, who racked up 12 kills against the Pine Lads. The Farmers won 25-13, 23-25, 25-10, 20-25, 15-13.
"To me, it went good," Gomes said. "I think we played more as a team and we were more aware of our mistakes."
"They are looking good. They just have to work on their chemistry," said coach Bill Dudoit.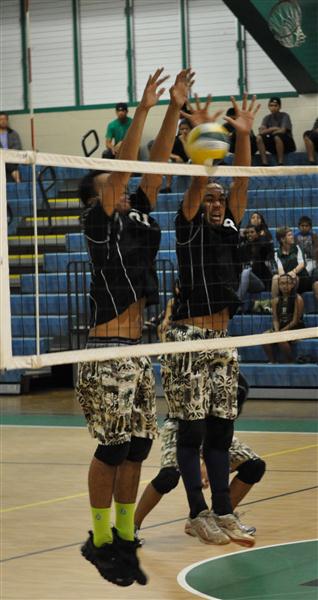 Gomes had 12 kills on Saturday afternoon; Adolpho had 9 kills and 2 blocks, as well as one ace. Anu Maliu-Calairo gave the team an extra push by coming off the bench on Saturday and had seven kills on eight attempts. The Farmers won 25-10, 25-27, 22-25, 25-20, 15-6.
"I think it went pretty well. The coaches did really well training us and preparing us for Lanai," Maliu-Calairo said.
Their next and first home game will be against defending Maui Interscholastic League (MIL) champs, Baldwin High, April 8-9.
"We would like people to come out and support our team," Dudoit said.