Boys Basketball: Molokai vs. Seabury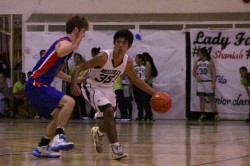 Molokai High School Sophomore Kaimana Kahale moves the ball down the court during the season opener of boys basketball last Friday night against Seabury. The Barn shook as the crowd roared and stamped with excitement during their first game of two last weekend.
The Farmers came close to take to take the lead, however Seabury pulled ahead at the final buzzer with a score of 59 to 51. High scorers of the night were sophomore Jordan Boswell making 8 points and senior David Rapanot sinking 23.
"We did well, but there are a lot of things we need to improve on…[like] passing," said Molokai coach Carl Adolpho Jr. after the game.
Play continued Saturday, with Seabury taking the victory 47-30. The Farmers' next game is scheduled Friday and Saturday, Jan. 10 and 11, on Lanai. Friday's game will begin at 7 p.m. and play will continue Saturday at noon.