Bon-a-Fide Good Time
Japanese festival celebrates ancestors with music, dancing.
Elaborate kimonos mingled with T-shirts and slippers, paper lanterns lit the dusk sky and Taiko drumming filled Kaunakakai last Saturday evening as the Guzeiji Soto Mission held its annual Obon festival, a religious and cultural event that honors the dead.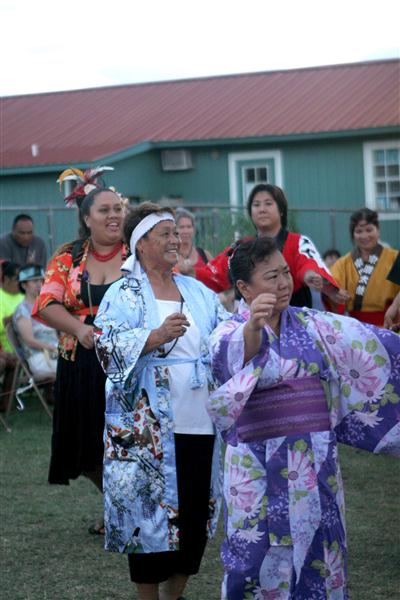 Members of the temple, joined by the community, circled the stage for the traditional Bon dance.
"It's symbolic of dancing with your ancestors," said Rev. Shuji Komagata, who came from Soto Mission Aiea on Oahu for Saturday's festival. "It's a reunion."
The celebration began in the morning with a prayer service at Kapa`akea Cemetery, followed by a service at the temple to honor those who have passed away in the last year.
The Obon festival had been held at Mitchell Pauole Center for over 20 years, but this year organizers moved it to its original site, the temple grounds on Hotel Lane, allowing the evening's service to flow into the performance.
"We just thought it would be really nice to bring it back to its original place," said volunteer Koki Foster.
Komagata called the festival a time for "everybody, even if they're a different religion, to take a moment and remember the ones who have passed on."
Over the stage hung a line with slips of paper on which people wrote the names of loved ones who had passed away. At the end of the night, the slips were burned, symbolically releasing the spirits.