Bombs to Beauty
State proposes Ilio Point become a Natural Area Reserve.
Ilio Point on Molokai's northwestern tip has seen its share of earth shattering events – literally. Acquired by the U.S. Navy in 1940 as an aerial bombing range, the area still has so many unexploded ordinances that access is prohibited. Ilio Point, despite the devastation, is rich in rare plants and animals, cultural sites and archeological specimens. Because of that, the Department of Land and Natural Resources (DLNR) Natural Area Reserves (NARS) Commission has recommended the area for designation as a Natural Area Reserve.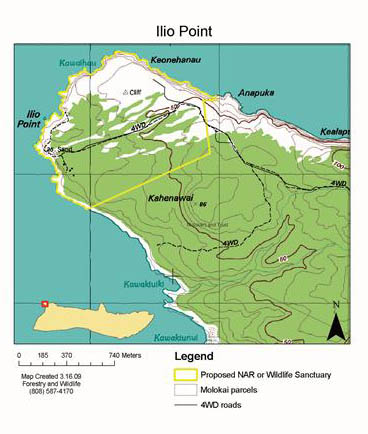 The proposed area consists of 261 acres of state land that is not designated to any specific department. The state's deed on the land currently prohibits access because of the unexploded ordinances, and the NARS designation would not change that, or affect native gathering rights, according to Emma Yuen, NARS Enhancement Coordinator. However, part of the goal of the NARS designation is to remove safety hazards from the area.
Ilio Point is home to seabird species, the endangered Hawaiian monk seal and many native and rare plants. Fossilized goose bones and snail shells of now-extinct species have also been found in the area.
If designated, the land would be preserved in perpetuity, according to Bill Evanson, District Natural Area Program Manager. Final approval of the NARS designation is up to the Governor.
"It needs to be protected," said Molokai resident and Hawaiian plants specialist Bill Garnett. "It's one little place on Molokai where it still is what it used to be."
Garnett and others testified at a public hearing about the proposed Ilio Point reserve held on Molokai last week.
Resident Halona Kaopuiki explained his family's history in the area and the cultural important of preserving access to Ilio.
"We're talking about access. We have burials out there," he said.
Yama Kaholoaa, Sr. expressed apprehension about the plan because it is not community initiated. He testified about the knowledge and resources of Molokai residents that are left unused, and said he hoped a plan for Ilio Point would be developed in close communication with the community.
"It should be the native Hawaiians that take care of the native species," Kaholoaa said.
There are two other Natural Area Reserves on Molokai already – Pu`u Ali`i and Oloku`i on the island's north central shore. The last NAR in the state was designated in 1991.
Another public hearing will be this Wednesday, Nov.. 18 from 6-8 p.m. at the Mitchell Pauole Center.