Blessed Feast
St. Damien Day unfolds celebrations topside.
May 10 was a day of celebrations all over the world in honor of the feast day of Saint Damien De Veuster. But none were more poignant or relevant than those held on Molokai, the island Hawaii's first saint called home. Last Monday, parishioners gathered at Our Lady of Seven Sorrows Church to extend prayer and gratitude to St. Damien.
The evening was filled with vibrant images and vignettes of St. Damien as Mass commenced inside the faintly lit church on Molokai's east end – one of four topside churches built by Damien himself.
Father Clyde Guerreiro, pastor of St. Damien Parish, led the ceremony alongside Deacon Michael Shizuma. The service was followed by a potluck supper, where guests enjoyed ono grinds and engaged in light conversation.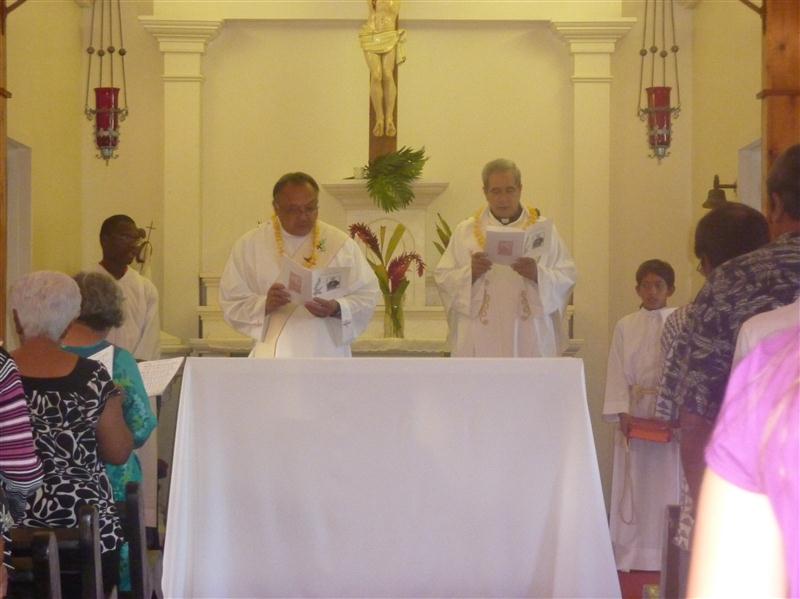 feel present among us. The day was beautiful."
St. Philomena Church, located in Kalawao, began as a small chapel where Damien spent his first few nights on Molokai. He added on to the church twice, more than doubling its size, while parishioners refinished and painted the interior. Today, the church stands in homage to the priest.
Leoda Shizuma called it an "experience of a lifetime" for the Kalaupapa patients, to be right in the midst of his memory, where he set foot for many years.
"I thought they were moved and touched," she added.
Michael Shizuma reflected on the experience as a good way to remember everything Damien has done for the isle.
"I feel very grateful to be a part of it," he said.