Bike Bonanza Brings Joy of Riding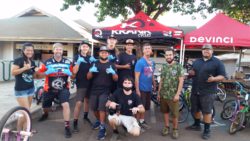 By Catherine Cluett Pactol
Nearly 50 bikes were given away free to Molokai keiki and more than 200 bikes were repaired during an event brought to Molokai by Krank Cycles Maui last Saturday. The giveaway opened at 9 a.m., and within half an hour, all the bikes donated by the Maui community had been given away, said Krank owner Aaron "Moose" Riechert. Kids arrived at the Molokai Youth Center on foot and left on a bike, while hundreds more bikes were dropped off in a drive-through repair line to become functional once more.
"It's a little hectic," said Riechert with tools in hand, fixing a brake line as about half a dozen other mechanics worked their way through long lines of broken bikes. "It's so cool to see them coming out and really getting stoked about bikes and getting healthy… A few people were really disappointed they couldn't get bikes, we're sorry we didn't have more… but for the most part everyone was really grateful and happy and we gave them all out pretty quickly."
When the pandemic broke out Riechert started going door to door for bike repairs in a vehicle his company had previously used to service bikes at hotels.
"We did a call to a Hawaiian homestead in Iao Valley… and they started pulling bikes from the river bed, out from under the house… we ended up taking 17 [broken] bikes and making 13 [working] bikes," he recalled. "The sun was setting, we were working all day… I just had that idea [to start the service mission]."
Krank Cycles team now travels around Maui County offering giveaway and repair services free to communities.
"Even without this pandemic, [bikes are] great for health and physical exercise and the freedom you get from riding a bike as a kid [is] amazing," he said. "That surpassed my first car, my first apartment… anything. That memory is engraved."
Carrying on his own passion for bikes, Riechert now gives the gift of bikes to others, including those on Molokai.
"It feels good, it's refreshing!" said happy young bike recipient, Jet. "Better than staying home!"
"And we're bombing the hills!" chimed in Christian and Collin.
Riechert's friend Kawika Kiesling, was one of those who came along to Molokai, and though he's not part of the mechanic crew, he pitched in to help with repairs. He said seeing keiki riding their new bikes "brings joy to your heart."
"The kids came in, they didn't have a bike and they got a good used bike," he said. "This is bringing joy instead of fear [in the pandemic]."
Krank Cycles partnered with Trilogy to transport bikes and crew from Maui. Staff from Partners in Development Tutu and Me as well as the Molokai Community Service Council, which hosted the event at the Youth Center, came out to help, said Karen Holt of MCSC. The Krank crew was hosted by local families to stay overnight and many in the community donated food. Keani Rawlins-Fernandez worked to coordinate contact with bike owners when their repairs were complete. Phillip Kikukawa of Molokai Bicycle helped hands-on with repairs and treated the Krank crew to dinner.
The Krank team expressed their gratitude for all the support from the Molokai community, as well as Maui for the bike donations and said they hope to come back for another event in the future.