Big Week for Youth Paddler
Community Contributed
By Clare Seeger Mawae
The first part of May has been quite the week for the 10-year-old paddler Alex Mawae. He found out just days prior to the Maui to Molokai race in April that the ruling majority would not let him race due to his age. One week later he was given the green light to paddle Ka`iwi channel in the OC2 relay division on May 5. Ka`iwi was not the typical downwind run for 2013 and it was the worst conditions in the history of the race with 20 mph southwest winds. Due to conditions, his team was among 20 boats that were told to paddle to Hawaii Kai and not to the finish at Magic Island. Still, he had quite a smile on his face for crossing the channel to Oahu.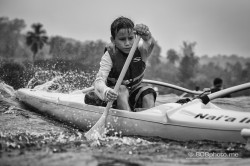 The following week was his yearlong dream race, the Olukai on Maui, an 8.5 mile downwinder with stand-up paddling on Saturday, and OC1on Sunday. He succeeded in both, with OC1 offering little visibility, rain and fairly good size surf at the finish. He finished in the middle of the pack on Saturday and not close to last on Sunday, and was the youngest competitor to compete in both events. His times were respectable in 1.33 and 1.35 for an 8.5 mile race in little wind.
Maybe reading this will help inspire other young Molokai paddlers out there that anything is possible with determination and will. Alex learned to overcome a fear of the ocean and replace it with respect. The times he became seasick while paddling still did not deter this young man with his goals and ambitions. Alex is no different to any other kid, but instead he learned step by step to overcome fear, respect the elements, understand his will, determination and goals in life. This is what the ocean has done for him. Alex hopes that more young Molokai paddlers will be paddling alongside him in the not too distant future. If Alex can do this, so can anyone else.