The Big Stage
Tough green Astroturf, thousands of fans, a slew of opposing defenders and one league record were all left in the dust as Molokai running back Noah Caparida sped down the sideline at Honolulu's Aloha Stadium last Sunday. Caparida weaved and juked his way to a 95-yard touchdown run – the longest in Island Youth Football League history – as the Farmers ran away with a convincing 32-6 win in their end-of-the-year bowl game.
"We ran a sweep to the outside and I just juked all of them out," Caparida said. "It's a good feeling [to set a record], it's exciting."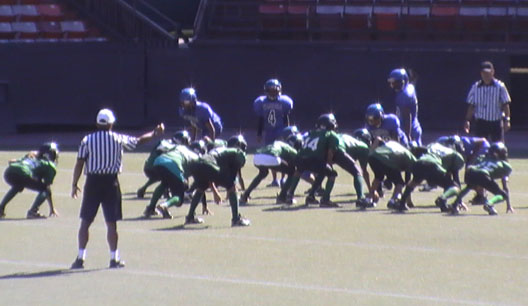 "It was a lot of fun I got to run over a couple of guys," he said. "Every time we were getting close to the end zone I was running it up the middle."
Traxler-Ortiz went out of his way to run over a few extra defenders on his first touchdown, a 15-yarder right up the middle.
"Overall, today they were the team that we were always looking to find throughout the season," Kiaha said. "They played with heart and soul and passion for the game. Everybody had a great game."
The Farmers finished their season with a 3-6 record, but turned some heads with their strong performance in the stadium this weekend. The trip, their second in as many years, was funded by generous donations from several local businesses and residents. The team went door-to-door on their furlough days to raise the money.