Big Keiki Turnout
What a great day was had at our 6th Annual Moloka'i Keiki Expo, held on Saturday, February 7 at the Mitchell Pauole Center. A set of four books were gladly given to each family surrounding our theme, "Keeping Our Keiki Healthy". The titles of the books were "Wash 'um", "Brush 'um", "Eat 'um", and "Move 'um". These books included beautifully illustrated pictures with a local twist, featuring island keiki and a true gift for each family that attended.
Oodles of educational prizes and books were given out and tons of fun activities were made as the crowd rolled in through out the morning. It was enlightening to watch the little one's enjoy the hands on activities as well as take on the challenge of the obstacle course while their parents gathered information about the different services/programs they were interested in.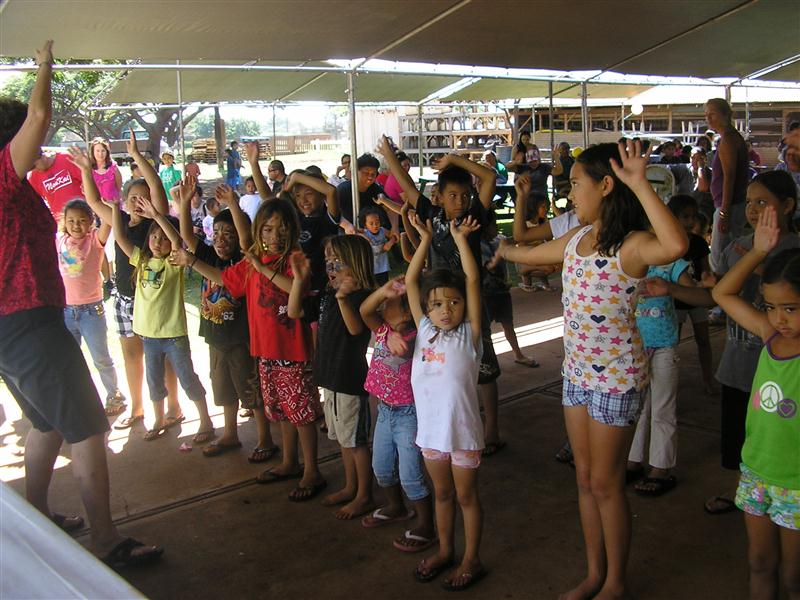 Congratulations to Azaelah Lavoie-Kahalewai, daughter to Malia & Marlin Lavoie, who was our Diaper Dash winner, taking home a keiki push buggy. Thank you to all the contestants who participated.
It is our hope that through our efforts we can continue to showcase all of our on island services (early childhood/health/family support/parenting support), to promote literacy, to bring awareness on the importance of early childhood education & services, and to provide a venue for our families to access the many services and programs we have here on our island all at this "one stop shop" annual event.
On behalf of The Moloka'i Keiki Group, we would like to take this opportunity to express our sincere gratitude and extend our warmest Mahalo to all those who made our event a huge success. Big Mahalo to our very generous sponsors who made this event possible: Punana Leo o Moloka'i, The County of Maui-Parks & Rec and staff, Kamehameha Schools, Office of Hawaiian Affairs, Queen Lili'uokalani Children's Center and Rawlins Chevron Service. A Special Mahalo to The Moloka'i Health Foundation who sponsored the set of four books (valued at $16 each set), which every single family who attended received. It was a huge hit and if you missed the event and wish to order this awesome health book series set at $4 each book, please contact Dana Gorecki at Oahu Head Start www.oahuheadstart.org or you may call 808-847-2400 for more information.
Mahalo to Matthew Helm (our great MC), to our entertainers: Halau Hula o Kilohana, Punana Leo o Moloka'i Preschool, and Becky Takashima & Debs Mapel for the skits, Lohea Audio/Sherman Napoleon, Kawika Crivello, Kanoho Helm, Ron Kimball, Claire Iveson, Kai Sawyer, Kathy Bennett, Miki'ala/Poema/Keoki Pescaia, Michelle/Francis Nae'ole & 'Ohana (Keiki Jumper), Moloka'i High School Leo Club, Moloka'i High School Teens Who Read Book Club, Kamehameha Schools ATP, Kime Kala Girls Volleyball Club, Sarah Kawa'a and Students, Edrian Apo, Melani Rawlins, Lynn Decoite, Hula Halau o Kilohana, and Punana Leo o Moloka'i for all your kokua.
To all of the services who participated, Mahalo nui!! Punana Leo o Moloka'i preschool, MEO Headstart, Na Kamali'i Hoaloha preschool, All God's Children preschool, Keiki Steps, Tutu & Me Traveling preschool, Kamehameha School's, Kualapu'u School, Maunaloa School, Kaunakakai School, State DOH-Moloka'i Public Health Nurse, Na Pu'uwai: Asthma / WIC, Moloka'i Dental Health Coalition, Moloka'i Community Health Center, Chevron Hawai'i-Keiki ID's, Moloka'i Early Headstart, IKAIKA Program (MCHC), PATCH, Moloka'i Fathering Initiatives, Na Lei Mamo, Queen Lili'uokalani Children's Center, Alu Like-Native Hawaiian Library, Read to me, and MHS Business Class.
If we had missed anyone, e kala mai…and Mahalo nui!!
Mahalo nui once again and see you all at next year's event!
Lori-Lei Rawlins-Crivello & Becky Takashima