Big Games on Big Island
Molokai goes 2-2 against tough competition.
It came down to the wire again. Molokai girls' basketball played a rematch of last year's state championship against Kamehameha – Big Island last Saturday. And once again, Molokai won in the final seconds.
Senior guard Danna-Lynn Hooper hit a pair of free throws with only eight seconds left on the clock to give the Farmers a 42-40 win. It was the second win of the weekend for Molokai, who played four games against some of the state's top teams.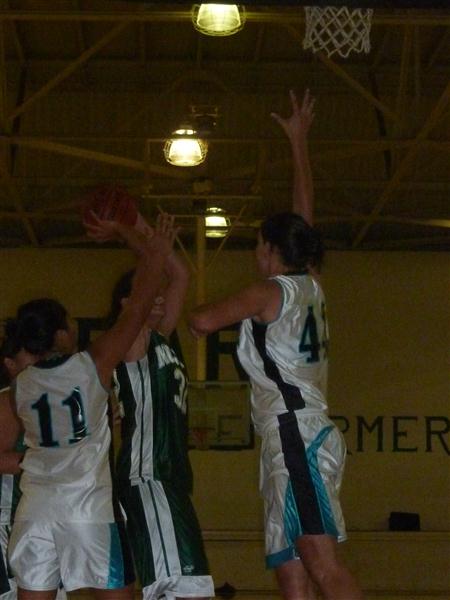 In last March's matchup, Molokai came from behind to capture the state title. This time around it was Kamehameha's turn to put together a fourth quarter comeback. The Farmers led by as many as 17 points in the third quarter, but saw that lead quickly evaporate thanks to clutch three-point shooting from Kamehameha.
"They really got us with three-pointers. We ran into foul trouble so we had to stop playing our man-to-man [defense]," Molokai coach Michael Hooper said.
The Farmers switched to a zone defense in the final quarter, giving Kamehameha open looks from beyond the arc. They took advantage and tied the game at 40-40 in the final minute before Danna-Lynn Hooper iced the win with her clutch shooting from the charity stripe.
"I don't think the score really shows how dominant we were against them," Coach Hooper said. "We don't really play many Div. II schools that can battle us right now. We're looking forward to a pretty exciting season."
The Farmers played three other games during the weekend, all against Div. I schools. They started the tournament with a dominant 45-21 victory of the Kealakehe Waveriders from the Big Island. Molokai went on a 20-1 run in the opening quarter and never looked back. Hooper and head coach Doug Furlong opened up the bench after the first quarter and let their young players get some valuable experience.
Molokai then dropped back-to-back games against defending Div. I champs and tournament host Konawaena and `Iolani from Oahu. Hooper said the girls missed some open looks against Konawaena that would have made things a little closer, but ultimately the home team had too much talent and came away with a 45-35 win.
The following night against Iolani was a neck-and-neck contest from start to finish. Neither team lead by more than four points throughout and, like Saturday's game, it came down to the final minute.
The Farmers pulled within one point with under a minute to go, but Iolani was able to hit enough foul shots to hold on for the 33-29 victory. Molokai's preseason record to this point is now 3-3 with six games left before the start of the regular conference schedule.
"That was a game we could have won," Hooper said. "We have a long way to go, but all of our problems are fixable things that we can work on."
Hooper said the team will spend a short week of practice working on conditioning and staying in control. This weekend they will be on the road again for an eight-team tournament at Moanalua. Their first game will be Thursday night against Kamehameha – Kapalana.