Big Funds for Organizations Making a Big Difference
Two Molokai nonprofit organizations have support to "pay it forward" in the community using awards from the Hawaii Medical Service Association (HMSA). Ka Honua Momona (KHM) and Kukui Ahi Patient Program at Molokai General Hospital each received $10,000 from HMSA as part of the health care coverage provider's 75th anniversary celebration.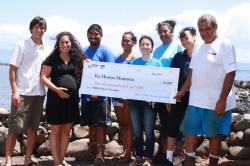 HMSA employees chose 10 organizations statewide to receive $10,000 each to make a difference in their communities, according to a press release about the HMSA Pays It Forward campaign.
"Our employees wanted to find a way to really stretch this gift and I'm confident this concept of paying it forward will accomplish that," said HMSA CEO Michael Gold. "Experience has taught us that innovation and partnerships are the keys to success. This campaign is giving us new opportunities to improve the health and well-being of our members, their families, and their communities."
HMSA representatives came to Molokai May 3 to award KHM and Kukui Ahi with a ceremony at each location.
Kukui Ahi staff and Molokai General Hospital President Janice Kalanihuia accepted their check at Molokai General Hospital, expressing their plans to pay it forward by bringing increased cancer awareness to the community through their Patient Navigation program.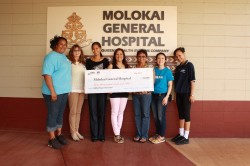 "With these funds we are going to try to target youth," said Jeanette Oshiro of Kukui Ahi. "We are going to go to schools and do awareness programs there, and hopefully they will go back to tell their parents."
The HMSA visitors got a tour of the fishponds when they presented the check to KHM.
"We are honored and absolutely thrilled to have been chosen by HMSA employees to win one of their 'pay it forward' awards," said KHM Director Noelani Yamashita. "We look forward to putting the award to work as we continue to care for our ancient Hawaiian treasures – Ali and Kalokoeli Fishponds."