Bhutan, a Spiritual Oasis
Molokai resident journeys to the Himalayan kingdom.
Community Contributed
By Victoria Kapuni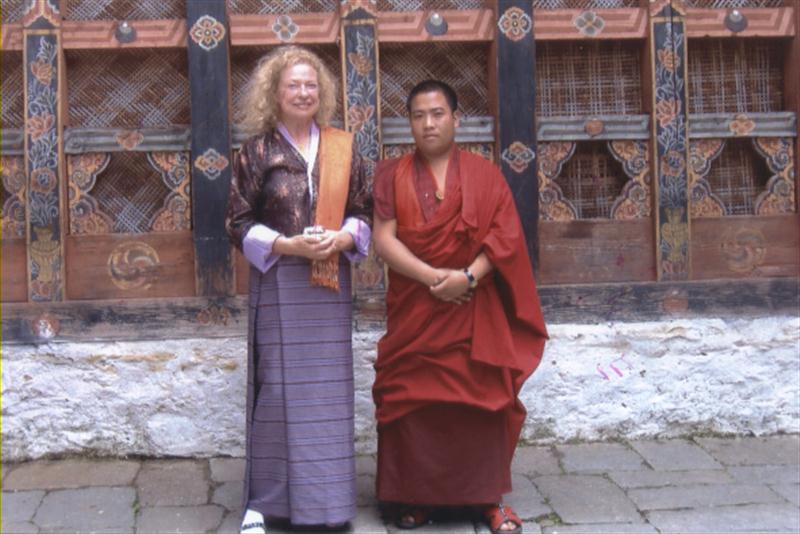 The Kingdom of Bhutan is a place of overwhelming, breathtaking natural beauty and cultural pageantry. I had the honor of traveling there for the second time this year. Located in the Himalaya Mountains between India and China, Bhutan is 90 percent Buddhist. One cannot help but feel spiritual in this country. Rivers run turquoise over rocks of white from the largest and tallest mountains in the world. The air is crisp and clean; everything is seen and heard clearly among the towering pine trees and flying prayer flags. The King measures his success at ruling not on the Gross National Product like us but the Gross National Happiness of his people.
My first trip to Bhutan last October was by chance when a friend asked me to join her on a trip to Bhutan to see the monks dance or the Drametse Ngachham (Dance of the Drummers of Drametse). It is said that anyone who has seen these dances will have eternal peace and prosperity when they die. The dances tell the story of Buddist spiritual beliefs. During this first trip I received an invitation to enter the King's private temple of the Future Buddha, not normally open to tourists. Upon my return home, I started making plans to return for a spiritual journey.
I re-visited Tiger's Nest, which is a temple built on the side of a cliff 800 meters above Paro Valley. It is said a monk was carried up the mountain to this spot by two tigers where he meditated without food and water for three months.
I returned to the King's temple again, where the monk who invited me before was waiting for me and once again invited me inside the temple of the Future Buddha. When I left, the monk climbed a ladder and pulled down a 10 foot scarf draped over one of the future Buddha's fingers. He placed it around my neck. He explained it was gray from the incense burned over a five year period where it stayed in the Future Buddha's hand. I was so honored I cried.
In Trongsa when we pulled up to the motel, monks were chanting and playing their horns and drums. I asked if I could just sit and have a cup of tea and listen to them outside the closed door. I did, then the door opened and a monk beckoned me inside. I prayed with them for two hours. Once again I was honored. Not only was I not Bhuddist, not Bhutanese, and not a man, but a white woman alone joining Thongsa Monestary monks practicing their ceremonies.
During the trip, I also saw the Dalai Lama. My hanai Bhutanese son, Kinley, found some Tibetan friends who arranged for us to see H H Dalai Lama for a teaching to be given to monks.
In Bumthang, at the top of a very steep mountain, I was taken as a student by H. E. Pad-tul Rimpoche. He is one of the five most spiritual people in the country. He told me that he was the reincarnated monk of Tiger's Nest. I was taken back because this was a place of monumental importance to me on the first trip. I was questioned for about ten minutes and then told he had accepted me as his student. I was completely surprised. He gifted me with a Buddhist rosary and taught me its prayers. It was suggested that instead of praying for just my family, friends and island of Molokai, I should pray for the whole world and all living beings.