Beefing Up Local Business
Molokai Livestock Cooperative processes grass-fed meat for the islands.
Molokai Livestock Cooperative (MLC), the island's only slaughterhouse, is fostering a shift in the way people think about the meat on their plates. Whereas mainstream meat products come from notoriously cruel feedlots that bolster their cattle with grains and growth hormones, MLC only processes grass-fed, hormone-free animals — making them part of a national trend driven mainly by consumer awareness.
While the average meat-packing plant on the mainland will process between 3,000 to 5,000 heads per day, MLC averages about seven per week. Operating at a smaller scale allows MLC to provide the island and a few off-island vendors with high-quality meats.
"What sets [MLC] apart from other processors is that…we operate at a human scale," said Jack Spruance, who has served as MLC's general manager for the past three years. "Animal slaughter is one thing, but the amount of respect and reverence in the process we have here is not the same as in a big plant."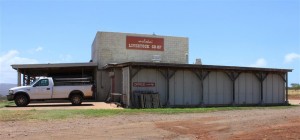 The small operation based in Ho`olehua has only four employees, yet still meets the highest U.S. Department of Agriculture Food Service Inspection Service (FSIS) standards, monitored daily by an on-site inspector. Since the slaughterhouse opened in 2006, there have been no reports of contaminations or outbreaks of disease.
Operations
MLC currently has 10 on-island ranchers who supply their meat.
Ranchers who are members of the cooperative raise their animals on their own land — whether it be cattle, sheep or hogs. When the animals are of age, ranchers may bring them to MLC to be processed. They must sign an affidavit that swears their livestock has been grass-finished, or fattened without grain. MLC then acts as a "marketing option" for ranchers by buying the animals from them, processing the meat and then selling and distributing it to vendors throughout Hawaii, said Spruance.
"Thank goodness [MLC] is here because otherwise we'd have to send our cattle off-island to be slaughtered and that is really expensive," said Renee Montizor, secretary for the Molokai Homestead Livestock Association. The association currently sends MLC 40 to 50 heads every roundup, with three roundups per year. They hope to be able to provide MLC with more beef to process in the future, said Montizor.
"Agriculture is a hard enough job, but we want to make it possible for ranchers to make a decent living," said Spruance. "So we have to constantly get fair prices [using] direct marketing."
MLC currently relies on county, state and federal grant monies as well as organizations like Office of Hawaiian Affairs. They lease their land from the State Department of Agriculture.
Right now, Spruance said one of the big problems for MLC is that there are not enough animals on the island to process. Currently, in order to remain economically viable, MLC imports animals from other Hawaiian islands to process to make up for the limited amount of producers on Molokai. One of the main reasons for the shortage is that a lot of ranchers on Molokai are cow-calf operations, which means they sell and ship young animals off-island for fattening, leaving little demand for meat processing on the island, according to Spruance.
He said he hopes more ranchers on the island will sell their calves locally instead of off-island to create a more sustainable source of meat on Molokai.
In addition to beef, MLC also processes other meats besides cattle like venison, sheep and hogs.
Grass-fed vs. Grain-fed
In recent years, there has been an increased interest from consumers to know where their beef comes from, said Spruance.
Recent research conducted by California State University compared the nutritional profiles of grass-fed and grain-fed beef. The study, published in Nutrition Journal, concluded that grass-fed meats had less total and saturated fat, less cholesterol and fewer calories. It also had more Vitamin E, Vitamin C and a number of healthy fats like omega-3 fatty acids and conjugated linoleic acid, or CLA.
"We do our best to produce a tasty, tender product and consumers are driven by flavor and tenderness," said Spruance.
"The meat consistently tastes fantastic no matter what cut you get," said Kaunakakai resident and long-time MLC patron Jane Fuener. "Plus it's healthier."
Community
Besides buying cuts of meat directly at MLC located next to Hikiola Cooperative, you may find their products at Friendly Market, Misaki's, Kualapu`u Market and a few local restaurants on Molokai, as well as small-scale vendors on Maui and Oahu. Spruance said he prefers to use direct marketers instead of wholesalers because he likes to trade locally to avoid profit margins or quotas that are often mandated by larger companies like Whole Foods.
"We try to keep prices affordable," said Spruance. "We want to promote small production instead of large-scale production, especially on the islands."
Ultimately, it is less about economic profits and more about the community and the service MLC provides, said Spruance.
"The more support we get from the community, the better we do. The better we do, the more we can return to the local community."
MLC is open Monday through Friday from 7 a.m. to 3 p.m. For more information, call 567-6994.