Beautiful and Dangerous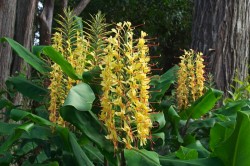 Some plants growing in your garden may be beautiful, but as invasive species, threaten native vegetation and could potentially lead to damage of native forests. Such is the case for Kahili Ginger, a species of decorative plant that local experts say is coveted for its large flowers but in fact is highly invasive.
"If it gets out of control [in a garden] and into the natives forests, we can lose thousands of acres of forests [as seen on other islands]," said Lance De Silva, forest management supervisor for the Division of Forestry and Wildlife on Maui, who regularly comes to Molokai to assist with invasive species control. "It out-competes everything and can be devastating."
Molokai Maui Invasive Species Committee (MoMISC) Field Coordinator Lori Buchanan calls Kahili Ginger one of the top 10 invasive species in the state.
That's why she's asking Molokai residents who may have the plant growing in their garden or yard to remove it.
"It's an old time favorite, and sought after because of its pretty flowers that come in salmon, white and yellow," Buchanan said. "[But] we want people to stop planting it and take it out."
Kahili Ginger can be distinguished from regular ginger by its large, showy flowerets and leaves and its thick stems. While regular ginger spreads only by its roots, part of the danger of the so-called Kahili variety is it can also spread by seed. Its flowers mature into seeds and can multiply rapidly.
While other islands have had thousands of acres taken over by the plant, Molokai has only one, known wild population of about 10 acres in Wailau Valley, according to De Silva. He is assisting MoMISC by obtaining funds and workers to remove it. He said he was able to secure $85,000 in state funds for the job, and over the next year, eight to 10 field workers will be coming to Molokai eight times for one week at a time.
During those periods, they will be conducting ground control operations of the Wailau Kahili Ginger. In addition to covering the helicopters cost for transportation of the people and equipment, the funds De Silva secured have been used to purchase gear specifically for the Molokai project. That will ensure that other invasive species will not be spread to Molokai on equipment being transported from other islands, something Buchanan is happy about. She said she hopes these aggressive control efforts – along with the cooperation of residents — will stop the spread of Kahili Ginger into other areas of Molokai.
Buchanan said that if residents would like assistance removing plants from their property, they can contact her at 553-5236, ext. 6585 or on her cell phone, 336-0625.